Muneebah Umar chosen as Mississippi High School Journalist of the Year
Muneebah Umar has always been passionate about journalism and current events and decided to explore that passion when she came to MSMS. Almost two years later, she is The Vision's editor-in-chief and this year's Mississippi High School Journalist of the Year from The Mississippi Scholastic Press Association (MSPA).
"Winning Journalist of the Year was such a wonderful moment since I've been working hard for The Vision these past two years," Umar said. "It also made me even more proud of The Vision, since the success of one staff member reflects the quality of the paper and staff as a whole."
Umar will advance to the national level of the Journalism Education Association's High School Journalist of the Year competition to compete for up to $3,000 in scholarships.
To apply, Umar created a website portfolio that showcased her journalism and writing-related work. She presented highlights of her writing, editing, sports journalism, news gathering, leadership and team building, literary content, multimedia and marketing and entrepreneurship.
As a junior, Umar took journalism classes and refined her critical writing skills—which she had been familiar with prior to pursuing journalism—both of which fostered her love for journalistic writing.
"Muneebah has always been willing to write about a variety of topics that come her way, and she always executes it so well," Photography Editor Karlene Deng said. "In her time exploring journalism, Muneebah has been extremely persistent and did whatever it took to perfect her pieces."
During her first year on The Vision, Umar's persistence and dedication to journalism landed her the role of lead copy editor. Though the position increased her workload, the decision to devote more time to The Vision was a beneficial one.
"I mainly decided to commit to The Vision because of the positive and motivating environment and talented staff members who constantly encourage me to better myself," Umar said. "Journalism is amazing, but the opportunity to work with people who inspire me to work hard is what made me put so much effort into it."
As editor-in-chief, Umar has led The Vision through several changes. She has ensured a transition to a daily digital publishing format and a rollout of the Student News Source App.
"The Vision wouldn't be The Vision without Muneebah," Managing Editor Luke Bowles said. "She's the woman behind the curtains, the puppeteer behind the strings, whatever you want to call it. I know that she's very highly valued by the other editors and staff members, and I wouldn't want anyone else leading this organization."
"Muneebah has such a level head, which is great for leadership positions," Opinion Editor Fiona Dawe said. "I'm so proud of her, and I know she can do great things with her leadership in the future."
The Vision adviser, Margaret Mary Henry, also believes Umar's leadership led to her win.
"Muneebah has all the attributes you would want in an editor: curious, well-informed, fair-minded, open-minded, thoughtful, tactful, organized, sharp-eyed and hard-working," Henry said. "She is a talented wordsmith and a gifted leader. I am thrilled — but not surprised — that she has been named the Journalist of the Year."
Umar plans to study biology and/or neuroscience in college with the goal of becoming a doctor. Regardless of her career path, she plans to join a newspaper or magazine while at university.
"The lessons I've learned from journalism, such as consistency and always going the extra mile, will be applicable in every phase of my life," Umar said. "I want to continue writing throughout my life and stay involved in journalism however I can."
As her time with The Vision draws to a close, Umar is grateful for the opportunities she has gotten from it.
"Working for The Vision has been the most rewarding aspect of my high school career," Umar said. "Not only have I gotten the chance to refine my abilities as a writer and leader, but I've also been able to meet and work with some of the most talented people I've ever met."
Before Umar advances to nationals, she will also headline a group of All-Mississippi honorees at MSPA's statewide convention on Friday, April 9, as Mississippi's top scholastic journalist.
About the Contributor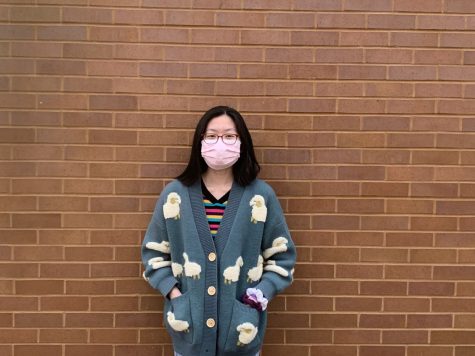 Amy Zhang, Copy Editor
Amy Zhang is a junior from Starkville, MS. She likes Avatar: The Last Airbender and two-dimensional geometry. In her free time, she dabbles in painting,...