Encouraging signs at competitive meet for MSMS track and field team
Since their first meet at the Starkville Season Opener, the MSMS's track team has intensified their training for specific events.
"Sprinters spend a lot of time in the weight room trying to build muscle and spend a lot of time working on their start so they can get to top speed faster," senior and track and field team captain Bryce Harrison said. "Distance runners try to spend most of their time working slow twitch muscles and increasing their VO2 max. Our throwers mainly focused on form. Some of our athletes have never thrown before and this is the best way to increase the distance they can throw."
The team saw the results of their training on March 9, when they traveled to Columbus High School to compete at the Falcon Relays. Nine high schools competed, including Starkville High School, Caledonia High School, West Point High School and New Hope High School.
The team had Harrison place second place in the 800m in 2:17 and third place in the 3200m in 11:19. Senior Hailey Manning placed fourth place in Discus with a distance of 84'6". Junior Carter Miller placed fifth in the 400m in 58.36 seconds.
The persistent training ultimately paid off, with numerous track and field team members improving their times.
"Personally, I improved from the Starkville opener and nearly doubled my discus throw," junior Hunter Chunn said.
"Our performances were better," Harrison, who shortened his previous 3200m time by nearly thirty seconds, said. "We performed better (better times, further throws, etc), but so did our competition. I'm just as happy for their improvement as I am our own."
The track and field team continued to train individually over spring break to stay in shape and prepare for their events. Even with covid-19 severely impacting traditional practices, Chunn is looking forward to the Starkville Invitational on March 30.
"I've always been a cross country runner and soccer player, so track and field was foreign to me. I've really enjoyed practices and meets," Chunn said. "I always have a good time being able to represent MSMS in a competitive nature that's not just academic."
About the Contributor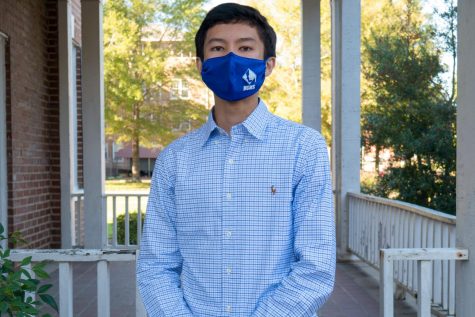 Nicholas Djedjos, Copy Editor
Nicholas Djedjos is a junior from Brandon, MS. He enjoys keeping up with the news and spending time with family and friends. In his spare time, you can...