MSMS welcomes new director of Academic Affairs Dr. Danette Moore
MSMS's newly named director of Academic Affairs, Dr. Danette Moore, will arrive at the school in June with broad experience in education, from elementary school to college, mostly in gifted programs.
"I have devoted most of my professional life to gifted education and believe strongly in the mission of MSMS," Moore said. "It has been my dream for many years to combine my work in school leadership with my work in gifted education. I am truly passionate about supporting Mississippi's academically talented students in reaching their goals and potential."
Moore replaces Kelly Brown, who has served as director of Academic Affairs for eight years.
"I hope to continue the on-going work to build an inclusive community that values every individual, encourages intellectual risk and celebrates growth," said the incoming director. 
Moore is originally from Bogalusa, LA, but has lived in Mississippi for the past 16 years. Currently, she lives in Gulfport. Moore has worked in the field of education for a total of 15 years and currently teaches at William Carey University and Pearl River High School.
A panel of MSMS students, parents, faculty and staff took part in interviewing Moore. Math teacher Shae Koenigsberger commented: "Within the first few minutes of Dr. Moore's interview, she explained her passion for equity, efficacy and racial justice. I knew at that moment that she understood this very diverse population at MSMS. What I appreciate most about her is her story and her willingness to share it with complete strangers. Her growing up in poverty and working hard to be successful was very relatable to me," Koenigsberger added.  "With her past and current experiences, she will bring a multitude of resources to faculty about how to teach gifted students, while respecting what we already bring to the table. Honestly, she seemed like a pretty neat and diverse human being, and I am excited about her being my boss in the fall."
MSMS Executive Director Dr. Germain McConnell said Moore is a good fit for the school.
"MSMS is a very unique educational institution, falling somewhere between a traditional high school and a small university.  Dr. Moore conveyed an appreciation of this unique environment and an understanding of the population of academically gifted and talented students we serve," McConnell said. "Her combination of educational attainment and experiences made her a very strong candidate.  Dr. Moore has taught gifted students at the secondary level, served as a leader in gifted education, taught college courses in gifted education and led summer camps for gifted students. I, along with members of the search committee, felt that Dr. Moore will help MSMS continue to fulfill its mission of 'enhancing the future of Mississippi.'"
Asked how she will handle the ongoing challenges of managing a school in the time of covid, Moore said: "The pandemic has changed so much of how we go about our daily lives — from extra cleaning and distancing protocols to using virtual learning platforms. To meet these challenges, I think our best strategies will build on things already in place at MSMS: clear communication, consistent safety practices and evaluating our processes."
About the Writer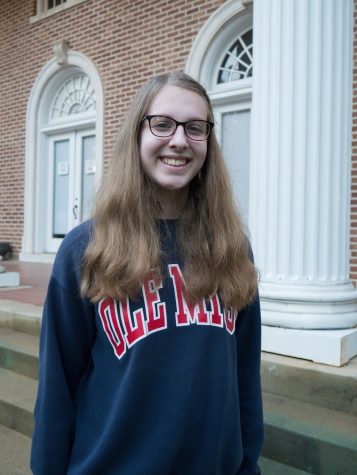 Chloe Sharp, Staff Writer








Chloe Sharp is a junior from Oxford, MS and is excited to be working on The Vision this year. She enjoys all things musical theater-related...