MSMS Math All-Stars virtually mentored students across the state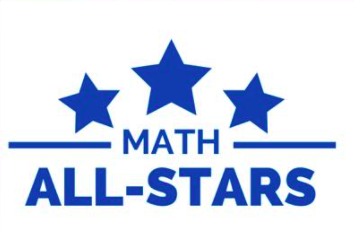 The Math All-Stars program this year virtually mentored children learning in classrooms and homeschools across the state as part of MSMS' Math Outreach Program. 
In Math Stars, an annual four-week math program for students in grades one through nine, MSMS students are the teachers. Signed up by their parents, the young participants are separated into groups of two or three grades at a time. This year's sequence started in February, and the group met on Wednesdays of every week.
During each weekly session, the students were given math problems created by MSMS students and faculty, and they were separated into groups to work together and solve them.
"A typical session starts off with Mrs. [Lauren] Zarandona [faculty leader] welcoming all of the kids and establishing that MSMS students are the teachers now," junior Raeed Kabir said. "She goes over the rules for the kids, and everyone gets sent off to their respective breakout rooms, sorted by age and math experience."
The Math All-Stars program is intended to lure young people to math — and perhaps to MSMS —  by giving them an experience of the fun in the numbers.
"The main goals of the math outreach program are to enhance and enrich students' mathematical abilities through the use of complex math puzzles curated and developed by MSMS students," junior Nidhi Patel said. "We also want students to shy away from the negative reputation associated with math by showing them math can be fun if we execute it in an engaging way"
Because of covid-19, the program was over Zoom this year, so all groups were in breakout rooms together, rather than groups in person. Student volunteers expressed that teaching math to these young students proved to be more difficult, but rewarding nonetheless.
"Tutoring these kids over Zoom came with its own issues, such as making sure the students knew when to talk and helping the younger students know how to manipulate the platform and its options," Kabir said. "However, these obstacles just made it more of a challenge for us all to overcome together with strong teamwork."
Senior Niyah Lockett said she wanted to participate in this program because it allowed her to offer students enrichment she never had as a young student.
"I really wanted to participate in this program because I wished I had something like it as a kid," Lockett said. "I craved work that would allow me to think 'outside the box', but I was never afforded that opportunity. All-Stars is such an amazing way to uplift our communities, and I couldn't miss the chance to take part in that. It's such a rewarding and fun experience to see kids having fun while learning and looking to you for mentorship."
Kabir was able to use his passion for math to teach and inspire younger generations with new ways to solve problems.
"I absolutely love math, teaching it and allowing others to deeply appreciate how it works," said Kabir. "The best part of the program is always pointing out some interesting pattern or alternative perspective and afterward feeling as though students have really gained a new way to look at the math. I hope that the program reaches more students in the future, but more importantly, I hope that students in the future write problems that are even more challenging and fun than what they are now."
Senior Clare Seo, one of the volunteers for the program, included her own siblings in the program, which gave them all a unique experience while learning and teaching along with everyone else.
"My little sister is only in the first grade, so I don't think she really understood what was going on, but she was still extremely excited to log onto Zoom with other kids," said Seo. "It was also fun to see my brother turn off his Zoom camera, but I could watch him behind the scenes busting out a few dance moves after getting answers correct. Participating in the program with my siblings definitely made the experience more enjoyable and look forward to each week."
Volunteers of the program said that the program succeeded in the ways that they had hoped, and they feel good about the impact the program seemed to have on the young students.
"I think the program did wonderfully, and every week, we saw so many familiar faces," said senior Michael Lu. He said many students came back and talked about how much they enjoyed the puzzles.
"I definitely feel that the program succeeded so well," said Lockett. "There are so many children who jump to participate, who ask for more work to complete during the week, and who never want to leave the Zoom call. It's easy to see that the participants are eager to join us every week"
Junior volunteers spoke of repeating their turn as Math All-Stars teachers next year.
"I really look forward to doing Math Outreach through the entirety of my time at MSMS," said Kabir. "I can visibly see these young kids enjoying themselves and how rewarding solving a puzzle can be, and I hope to experience it in a time without covid-19 and interact with these students without the barriers of Zoom."