Black Student Alliance holds Black History Month Program 
The final event in Black History Month at MSMS included a somber reminder of the past.
Speaker Melba Payne, a retired English teacher who grew up in Ashland, MS and lived through the Civil Rights Movement, described her harrowing experiences.
"Ms. Melba's talk of her experience through racism resonated with me the most because it truly emphasized how recent segregation was," said junior and Black Student Alliance fundraising coordinator Jordan Isbell.  "Most people don't understand that segregation wasn't a lifetime ago, it's still in modern memory, and its effects still linger to this day."
The 90-minute program, held Feb. 28 via Zoom, capped a month of BSA activities and drew nearly 50 attendees. The finale included guest speakers, poem recitals, videos and songs to signify the importance of Black history.
Senior Niyah Lockett, president of BSA, explained why Black History Month should be celebrated.
"Black History Month is so important to be acknowledged and celebrated because Black history is American history. There is no America without the blood, sweat, and tears of African Americans," Lockett said.  "Understanding how our past is directly contributing to our present is so vital in our continued fight for equality. Many Americans have no clue of the impact that the Black struggle has on every aspect of our country."
The program began with an introduction of the BSA officers and a brief address from Dr. McConnell. Madison Flowers, vice president of BSA and the organizer of the Black History Month Program, then gave a presentation on the #SayHerName movement.
After a poem recital from Isbell, speaker Cedric Washington, a member of the MSMS class of 1998, shared his life experiences.  Senior Madison Meeks, treasurer of BSA, commented:
"Mr. Cedric Washington's speech resonated with me the most. He was extremely down to earth, and the way he spoke about his wife was so endearing and such a beautiful thing to see."
The program concluded with a hopeful message. Juniors Zaria Cooper and Anthom Ahanaou presented a video tribute to Black empowerment throughout history. With the Black History Month program now completed, Isbell hopes more people realize the lasting contributions of Black creators.
"I believe this program is one of many examples of Black excellence joining together to represent our history," Isbell said. "It also tells me that learning about our past helps create the future of our race. I would like to encourage everyone to research the innovations and contributions Black people have made in the world."
About the Writer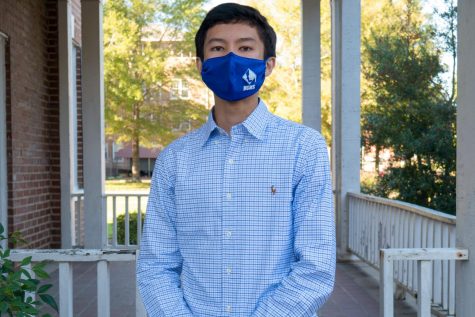 Nicholas Djedjos, Copy Editor
Nicholas Djedjos is a junior from Brandon, MS. He enjoys keeping up with the news and spending time with family and friends. In his spare time, you can...