Black Student Alliance hosts 'Black Trivia Night'
MSMS students often enjoy learning through fun and unique methods. When trying to find a way to teach Black history to others, juniors Zaria Cooper and Anthom Ahanonu decided to hold Black Trivia Night via Zoom and Kahoot. Cooper explained that the two's main goal was education.
"I felt motivated to educate more people about the work of African-Americans in every aspect possible, whether that be about history during the civil rights movement or recognizing Black people who have paved the way for future generations," Cooper said. "I felt trivia night was a fun and educational way of doing just that."
Despite a turnout slightly smaller than expected, Ahanonu expressed his contentment with the event as a whole.
"I was satisfied with how the trivia night went. The numbers could have been better, but it was nice to see people come out and want to play Kahoot," Ahanonu said. "I was very excited for this event, because Black trivia is fun, exciting and just great to educate yourself and others."
Senior Xavier Black won the Kahoot, the prize for which was a BSA t-shirt.
Black Student Alliance (BSA) president Niyah Lockett participated in the event and described her excitement for a more lighthearted learning experience than is typical for Black history. The Kahoot included questions about friendships between civil rights leaders, Black culture and music and more.
"Trivia night was a nice break from the dark parts of our history that we usually learn about," Lockett said. "I did learn something, but this didn't surprise me. There is so much to understand about Black history, and we are only beginning to scratch the surface."
Senior Madison Huddleston mirrored Lockett's ideas about the fun of learning about the brighter points of Black history.
"I enjoyed it, especially the questions that involved music/pop culture. I learned that I knew a little bit more about my history than I thought," Huddleston said.
Senior Leslie Lewis's description of the experience echoed how Cooper described the purpose of the event.
"I loved it. It was a nice time and just a chill time to hang out and also learn some Black history facts," Lewis said. "It was nice to laugh and talk with everyone but still learn."
Huddleston mentioned one element of Trivia Night that she found particularly helpful.
"I was happy to participate in this event with my peers, as we get few bonding opportunities due to COVID-19 restrictions…I think that the organizers stopping to explain the correct answers to more difficult questions was a great example of the importance of exchanging knowledge with others," Huddleston said.
Lockett left the event with pride and hope toward the future of the Black Student Alliance at MSMS.
"I'm so proud of my juniors for organizing this event," Lockett said. "As president, it makes me happy to know that the future of BSA is in good and capable hands."
About the Contributor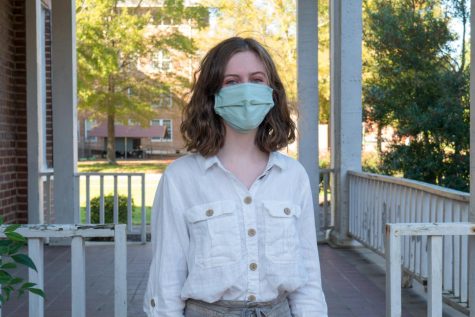 Jillian Snodgrass, Copy Editor
Jillian Snodgrass is a junior from Meridian, MS. They are very excited to express themself through writing for The Vision. Outside of school, they enjoy...