Black Student Alliance and Young Democrats AMPLIFY Black voices in Wellness Seminar
The past few years have seen the rise of awareness for racial justice in today's youth, and MSMS students are doing their part to keep their peers in touch with the realities of American society. 
MSMS's Black Student Alliance (BSA) and Young Democrats Club teamed up to host an AMPLIFY wellness seminar, giving panelists such as Mississippi poet Kiese Laymon and Mississippi House Representative Rickey Thompson a platform to speak on the issues that African Americans face in today's society. 
Niyah Lockett, MSMS senior and BSA President, explained that the goal of the webinar was to allow students to hear the perspectives of influential Black voices and be inspired to learn more about the African American community.
"I wanted to have a raw, unfiltered conversation with educated activists to get the unadulterated truth out to the viewers," Lockett said. "I wanted attendants to simply listen. In my opinion, there is no way you could listen to a conversation like that and not be inspired to learn more as an ally of the Black community."
Lockett along with the other event organizers, Young Democrats President Elisabeth Seage and Secretary/Treasurer Gracie Rowland, reached out to names such as Noah Harris, the first ever African American Undergraduate Council president at Harvard University, and Dr. Ellie More, instructor of speech at the University of Mississippi. 
"These panelists didn't add to the conversation, they were the conversation," Lockett said. "Kiese Laymon has written groundbreaking works on race, Noah Harris made literal history at Harvard, Representative Thompson has been pushing Mississippi legislation for years and Dr. Moore is an amazing professor and lifelong activist."
Panelists led in-depth discussions on a variety of subjects regarding social justice and equality in today's American society. In the second half of the webinar, attendees had the chance to engage with the panelists and ask questions or contribute to the conversation with their perspectives.
The discussion touched on topics ranging from everyday struggles faced by African Americans to broader issues such as the American justice system and the police force. 
Attendees, including MSMS students, alumni, teachers and administrators felt that the webinar was an enriching experience that allowed them to hear important stories from distinguished and knowledgeable speakers. Junior Vineeth Vanga remarked on the value he gleaned from attending the event.
"The main thing I gained from it was a very close perspective from the lives of those who have been oppressed," Vanga said. "When looking at civil rights movements such as Black Lives Matter it's very easy to forget the strife of the individuals who lead the movement, and I think the event was a very refreshing reminder of that."
About the Writer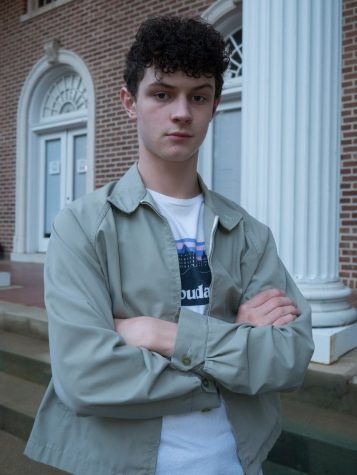 Caleb Jenkins, Entertainment Editor
Caleb Jenkins is a senior from Columbus, Miss. He has a strong passion for the arts, especially music and film, and he plans to pursue a career in one...