MSMS Black Student Alliance highly active for this year's Black History Month
The Black Student Alliance (BSA) has been busy over the past month with various initiatives intended to enrich other students' knowledge of Black history. The most recent of these, a special edition of the LaCroix and Current Events wellness seminar, occurred last Friday evening. Other events and programs included AMPLIFY, Black Facts, Music is the Movement, Lift Every Voice and the Black History Program.
Senior and organizer Meghan Curry explained the topics for discussion at the LaCroix and Current Events seminar.
"The purpose of the LaCroix and Current Events x BSA collaboration was to discuss issues that primarily pertain to the African-American community in terms of college, pop culture and just society as a whole," Curry said. "[The] topics included 'Diversity or talent?' (affirmative action and its impact on Black students), 'Why are Black people hesitant to take the COVID-19 vaccine?', and 'Are non-Black creatives allowed to tell Black stories?'."
BSA President Niyah Lockett described her hope that each person who attended LaCroix and Current Events left with something valuable from it.
"LaCroix is an open space that promotes raw (yet civil) discourse among students," Lockett said. "The topics are always chosen based on relevance and 'spiciness' to keep the conversations hot and interesting. We always hope that participants gain new perspectives from LaCroix conversations."
Senior Makenna Riley emphasized how important having conversations about the topics LaCroix often covers can be.
"I think that too often we shy away from controversial topics just to keep peace when the real peace comes from talking through and hearing others' perspectives. To me, La Croix provides that platform and I hope the participants felt they could speak up and have their voice heard," Riley said.
Other initiatives included Black Facts, a series of weekly emails sent out by various BSA officers throughout Black History Month. Black Facts exposed MSMS students to elements of Black history that they may not have otherwise learned.
"[Black Facts] was started by the BSA officers to inform our community on Black history and racial issues outside of the same, white-washed ones we hear about every year," Lockett said. "This event is needed because often we are taught that Black history is only a handful of events. In actuality, Black history is current, ongoing, and still extremely important."
Curry co-created a second program, "Music is the Movement", with senior class president Madison Meeks.
"…members of the student body listened to music created by Black artists as it pertains to a certain movement by Black people in history. This event was a success and was very important to me because music is such a big part of our community," Curry said.
A third, upcoming event simply titled "The Black History Program" aims to teach Black history in an uplifting manner.
"The Black History Program is an annual BSA event that serves the purpose of teaching our community about Black history in an engaging and entertaining way," Lockett said. "This event is important because it teaches others that not all of Black history is filled with struggle. There are moments of happiness and innovation that cannot be neglected."
All of these initiatives and more serve to foster a more inclusive, educated community at MSMS. Riley emphasized the need for such programs even at diverse schools.
"The importance of these events to me is that they designate a space for the Black students here at MSMS to just be Black and embrace our culture," Riley said. "MSMS, while diverse, is still majorly white dominated, and prioritizing Black History Month is crucial to supporting MSMS's Black community."
About the Writer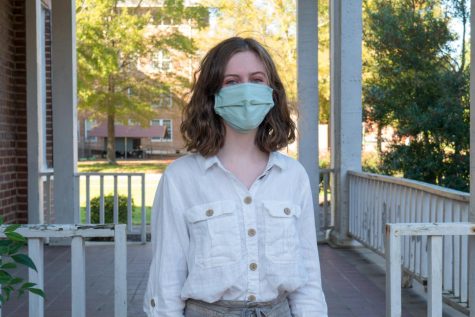 Jillian Snodgrass, Copy Editor
Jillian Snodgrass is a junior from Meridian, MS. They are very excited to express themself through writing for The Vision. Outside of school, they enjoy...