MSMS tennis team swings into training
The MSMS tennis team is back this year. After the pandemic quickly ended the team's previous season, players are gearing up to prepare for this season with after-school training. With over 30 students on the team, players like juniors Destiny Van and Avery Short are excited to have the opportunity to compete and practice with others.
"I joined the tennis team because I wanted to meet people and find other people to play with," said Van. "Tennis is also a very competitive sport. Although I'm not as experienced as many of the other players on the team, it is a great way to stay in shape and have fun doing it."
"I joined because I thought it would be a fun experience, and I'm looking forward to the season and getting to play against other teams," said Short. "To prepare, I have been working hard at practice and keeping ahead on my schoolwork." 
The team is practicing Monday through Thursday every week from 4:30 to 6:00 p.m. along with some practices held on the weekends. This season, the team is split into two different teams: teams "A" and "B". As they begin to compete, team "A" will travel and compete while team "B" will stay at home and play. 
While the season has just begun, the team has already experienced some setbacks and changes from previous seasons, particularly with off-campus students practicing and staying in shape. 
"Some really experienced players on the team are not able to practice here because they are at home. It would be difficult to drive all the way up here to just practice and go back home," said Van.
For junior Sam Sun, training off-campus has not been much of a challenge but he wishes the season would return to normal. 
"To prepare for this season, I've been practicing three to five days a week since the start of the school year. For me, not being able to practice with the team is not that big of a deal because I live in Starkville, which means I can practice with many of the MSU students," said Sun. "As far as technique and strategy go, I don't think I am missing out much by not practicing with the team; however, I feel like I will be missing out on the team bonding that can only happen through practices."
Even though the pandemic may have brought certain limitations to the training experience, junior Anthom Ahanonu remains optimistic about the season based on his previous experience on the soccer team.
"I think there is a bit of concern for the team's safety and travel. However, when I played on the soccer team, the risk of the pandemic was taken seriously, and I expect tennis to go the same way," said Ahanonu.
Coach Tonya King and her husband Troy King are leading practices for the team this season, and students are thrilled to see improvements under their guidance. Senior Michael Lu notices growth in the team after only around a week of training.
"While we've only been practicing for about a week, I can already see improvements from my teammates and myself," said Lu. "At this rate, I'm excited to see how much further we can improve throughout the season.
Van also appreciates the dedication and help from the coaches.
"I'm continuing to hone my skills and improve with the coaches. They are fantastic coaches who encourage you and show you your mistakes," said Van.
For Sun, he has set ambitious goals for himself and the team this season.
"My goal for both myself and the team is to first make it to state, and it would definitely be nice to win as well," said Sun. "Although my forehand, backhand, and serves all have room for improvement, it is unrealistic to expect any drastic improvements in the span of a few weeks, so instead, I'm going to focus on improving my 'game plan' and consistency."
Overall, the tennis team looks forward to serving up a successful season this year.
"It makes me happy to see people come out and realize how fun the sport is," said Patel. "Even though we're still under restrictions, I'm thankful that we're able to practice and play. I'm looking forward to growing as a team and, most of all, having fun."
About the Writer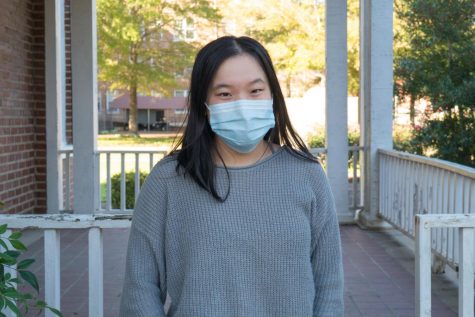 Jessica Yan, SGA Correspondent
Jessica Yan is a junior from Starkville, MS. She is a member of the swim team and the Speech and Debate club. She likes to spend her day chilling at the...