Amanda Gorman's first poem inspires, but her second lacks emotional depth
When day comes, we ask ourselves, where can we find light in this never-ending shade? / The loss we carry. A sea we must wade.
Amanda Gorman's poem "The Hill We Climb," which she recited at President Joe Biden's inauguration, beautifully illustrates the heftiness of the task we must undertake as a nation over the course of Biden's presidency. At the same time, Gorman lightens the tone with notes of hope, mirroring the inaugural address itself.
Her impeccable use of literary devices coupled with extensive imagery truly inspire the listener to action. Anaphora, rhyme, alliteration, allusions and consonance partner to deliver a message of America's flaws, but also one of its resilience, appealing to many American citizens. 
She uses her own experience and journey as a young Black poet to enhance the statements she makes about recent events, especially the Black Lives Matter protests from last summer. The line "We've learned that quiet isn't always peace, and the norms and notions of what 'just' is isn't always justice," alludes to those events.
Gorman, the first National Youth Poet Laureate, deservedly became a celebrity after her recitation, so much so that she performed at the Super Bowl halftime show last Sunday. Her performance there, however, I found underwhelming in comparison to her inaugural poem.
While both poems had a clear message and a point to get across, "The Hill We Climb" did so in a much more elegant and subtle way. "Chorus of the Captains," her Super Bowl poem, felt forced and a bit clunky. Frankly, it sounded similar to speeches commonly given thanking veterans, first responders, essential workers and others with lines like "Today we honor our three captains / For their actions and impact in / A time of uncertainty and need." In other words, it seemed surface-level and did not do the topic justice. 
It's possible that Gorman was rushed in writing "Chorus of the Captains," considering she received the Super Bowl commission after the inauguration, giving her at most two and a half weeks to write and prepare for the recitation. I find that writing from your own ideas comes much more easily than writing from a requested topic that you may not have any connection to, which could be another reason behind the change in quality between the two poems.
It's still disappointing to hear "Chorus of the Captains" from a poet who has proven she can do much better. I adored "The Hill We Climb" and hope to see more poetry of that caliber from Gorman in the future.
About the Writer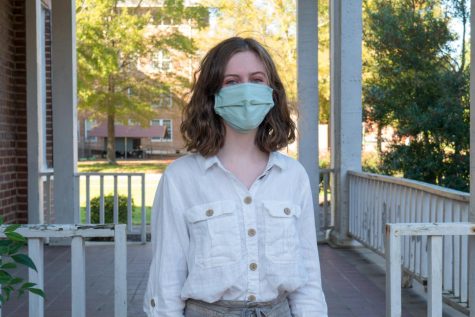 Jillian Snodgrass, Copy Editor
Jillian Snodgrass is a junior from Meridian, MS. They are very excited to express themself through writing for The Vision. Outside of school, they enjoy...