Brent Faiyaz brings us down to Earth with 'Gravity'
Brent Faiyaz is starting the year off strong with a melancholic, yet hard hitting song about the struggles of living a life on the move and the "gravity," in the form of a significant other, that keeps him grounded. With the addition of a Tyler, the Creator feature, the song has stirred up a lot of well-deserved attention.
The song kicks off with a catchy beat, quickly joined by the song's equally catchy chorus. "You held me up when I was down and out / But I don't want you waitin' 'round for me," sings Faiyaz, introducing the song's theme of a balancing act between a relationship and work-related travel. 
The production by DJ Dahi walks the line between moody and upbeat, all the while giving the track an intimate vibe. Combine that with Faiyaz's Frank Ocean-esque R&B vocal style, and the end product is something that can be enjoyed in almost any setting. 
The Tyler, the Creator feature is an obvious drawing point, but ironically, the feature itself is fairly brief, at only 10 bars long. Regardless of its brevity, Tyler's contribution to the song serves its purpose, adding to the spacey undertones of the track with lines like "I'm a star, look at me from afar / Hard to be down to Earth, when you nestin' on Mars." 
Tyler's wordplay in the line "You comet on how I move, too much space to assume" is exceedingly clever and highlights his ability to add so much to a song in such a short space. "Gravity" marks the first collaboration between Tyler and Faiyaz, and his addition to the track fits perfectly with the tone set by Faiyaz and Dahi.
The song's chorus seems to be a plea for the woman Faiyaz is addressing not to count on him to stay faithful while he is away for an extended period of time. While her emotional support has helped to keep him grounded, he doesn't want to commit to a relationship and doesn't want to get her hopes up as she awaits his return.
"It's not that I'm over you," sings Faiyaz. "But I got things to do / It's too much to be your boyfriend, too much / And you ain't making this much easier." The emotion is palpable in Faiyaz's delivery, and together with the harmonious vocal layering, makes the listener feel what Faiyaz is feeling, connecting the audience to the song. 
"Gravity" delivers a smooth, heartfelt listening experience that is sure to please longtime fans of Brent Faiyaz as well as those who have never heard his music before. Many will come for the Tyler, the Creator feature, but many of those will stay for the beautiful melancholy in Faiyaz's songwriting and DJ Dahi's production.
About the Writer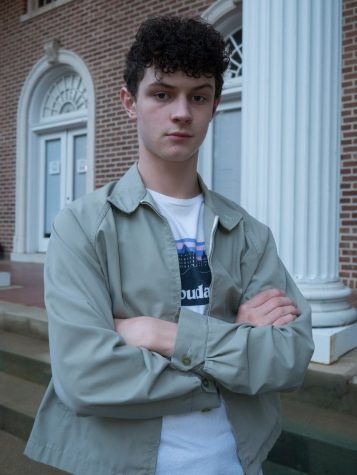 Caleb Jenkins, Entertainment Editor
Caleb Jenkins is a senior from Columbus, Miss. He has a strong passion for the arts, especially music and film, and he plans to pursue a career in one...