Blue Waves sweep Yazoo County for Senior Day celebration
The Blue Waves 2020-21 regular soccer season drew to a close with a pair of wins in the regularly scheduled Senior Day matchups against Yazoo county. The Saturday, Jan. 23 games included a mercy-rule shortened 7-0 win for the girls and penalty-ridden 4-0 win for the boys. These were followed with makeup matches against St. Joseph later in the evening.
Though seniors were the stars of the recognition ceremony between matches, juniors shone on the field in the girls' match. Weslyn McMurrin provided the lone senior goal, joined with three from Lauren Rutherford, two from Madison Johnson and one from Kareena Patel.
Stakes were high in all of Saturday's matches. Wins for the girls in both of their matches would secure a berth in the playoffs, while a win for the boys against St. Joseph would do the same.
Girls' head coach Chuck Yarborough saw the opportunity for a nice tune-up before the challenge of St. Joseph.
"This match was a great opportunity for all of our players to work on our soccer skills against a hard-working opponent," said Yarborough. "With the shortened season due to the COVID-19 pandemic, our players needed a good home match so we could develop further as a team." 
Patel noted the great assistance she takes from her teammates, while McMurrin reflected on the final chapter of her soccer career.
"The team really came together on this one," said Patel. "My teammates are extremely encouraging and it brightens the mood overall. It feels great to have that support around you while playing."
"This season has been pretty weird for all of us," said McMurrin. "It was nice to be able to take home a win. It's really sad to know that I won't be playing any more soccer high school games for the rest of my life, but I'm just glad that I was able to end my soccer career with a win."
The boys' match featured more even scoring. Senior Cameron Wright and junior Nicholas Djedjos each scored two goals toward the win.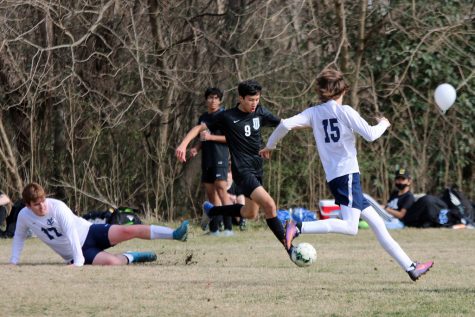 Boys' head coach Armando Leyva noted the challenge in balancing hard play with reserving energy, along with the importance of clean play in the face of those challenges.
"We had a good test during the Yazoo County match," said Leyva. "They are a very energetic team with a group of very good players, and we had to save some fuel for the next commitment. At some point the game became rough and less technical. It is not the style of play we promote, but we took away a good lesson: we should always keep our temper in check and play our own style."
Djedjos and Wright both saw their team's performance as a great culmination of a year's worth of growth and development.
"The game against Yazoo County went smoothly," said Djedjos. "We had good ball movement from the defense to the attacking third and we created a lot of chances. It felt great ending the senior game with a victory, and I'm happy we could honor the seniors with a clean win!"
"The team performed extremely well,' said Wright. "I saw everyone giving it their all when they were out on the field. In every area — our passing, ball control, and communication — we were beating Yazoo, which I think was simply a result of how much we've been able to grow as a team in the short time we've been together."
As the regular season ends for his team, Coach Yarborough voiced his optimism for the next one. "The successes of our winning season give all our players something to build on for next year!"