'Bridgerton': a bit basic, but entertaining nonetheless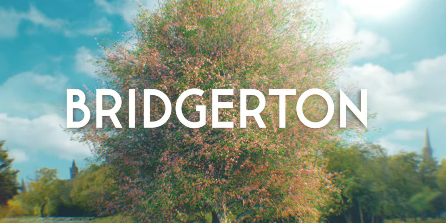 Released on Christmas Day of 2020, "Bridgerton" took the world by storm and quickly rose to the top of the charts, becoming Netflix's fifth most-streamed original series. The eight-episode series is one of Netflix's newest originals, and it brings a new spin to a familiar atmosphere in film and television.
"Bridgerton" is based on a series of books by romance author Julia Quinn. The Netflix series borrows plotlines from all eight books, though readers seemed to enjoy the show nonetheless. The plot of "Bridgerton" is about as basic as a period drama could get, with classic cliches and unnecessary dramatics. However, apart from "Downton Abbey," most period dramas are film adaptations. Because "Bridgerton" is a series, it allows for approximately eight hours of binge-watching, as opposed to two, allowing for much more drama than most adaptations can squeeze into their limited screen time.
"Bridgerton" is a period drama that centers on the high-class society in London of 1813. The social season has just begun, and it is time for the eligible ladies of the Ton (that's the fancy name for the upper-class socialites) to begin courting prospective suitors in the hopes of finding someone kind and wealthy‒but more importantly, wealthy‒to marry. The show mainly focuses on the Bridgertons, an affluent family of nine whose eldest daughter Daphne is of age to enter the social scene. The show's drama is provided by Lady Whistledown, voiced by British icon Julie Andrews, who releases the Ton's latest gossip each week in a newsletter. If Jane Austen wrote and directed Gossip Girl, it would probably look pretty similar to "Bridgerton," but much more whitewashed.
One of the first things I noticed about the show is its diversity. The opening scene alone showed more POC characters than every "Downton Abbey" episode combined. Unlike many shows that choose to be colorblind about diversity if they even have diversity at all, "Bridgerton" seems to embrace its racial diversity, bringing light to the struggles of being Black in London in the 19th century. About halfway through the show, it is revealed that King George III marries Queen Charlotte, portrayed as a Black woman in the show (likely as a hat tip to the theory that the real Queen Charlotte was of African descent), allowing for POC to inherit royal titles and large areas of land. By adding this into the show, it sets up the idea that the directors want to make race a central issue for a lot of the characters. However, this is not the case. Many of the leading Black characters aren't as well-developed as the leading white ones, and the racial issues that are discussed are glossed over at times and could have been further elaborated. Two of the most iconic Black characters on the show, Lady Danbury and Queen Charlotte, have basically no screen time. It feels like they are only there for diversity, even though their characters had so much potential to be complex. Hopefully, Netflix will release a second season and give the audience the sarcastic Lady Danbury and gossip-driven Queen Charlotte content we all deserve. While the show seems to be a step in the right direction, it could certainly deliver its representation differently.
"Bridgerton" definitely lives up to its TV-MA rating, with many of the later episodes being highly suggestive. The show has about five-too-many X-rated scenes that you certainly wouldn't find in "Pride and Prejudice," but then again "Pride and Prejudice" didn't have an instrumental version of Taylor Swift's "Wildest Dreams."
Speaking of instrumentals, the series takes a different approach to ballroom dancing music than most period dramas, with the aforementioned Taylor Swift song and "thank you, next" by Ariana Grande, as well as a few others. While I personally enjoy the classical music in most shows and movies of this sort, the change in music style was appreciated, and the Vitamin String Quartet completely encapsulated the ballroom feel while still playing familiar favorites.
The relationships in "Bridgerton" can account for almost every romance trope humanly possible. Anthony Bridgerton is the eldest son in the Bridgerton family, so he is expected to marry a wealthy young woman and set a good example for his siblings. However, he is in love with an impoverished opera singer that his mother doesn't approve of. Daphne Bridgerton has both a fake romance and a real one with the emotionally unavailable Duke Simon of Hastings. Their dynamic is somehow simultaneously annoying and precious, which can probably be attributed to the fact that Daphne was very bland. However, it's incredibly easy to get attached to the many relationships in the show, no matter how irritating they are, hoping some will thrive and others will collapse.
The costume department took no liberties when working on this series. The neverending stream of corsets, ball gowns and elbow-length gloves brought back a sense of longing I haven't felt since 2019's "Little Women." Some of the gowns were not the style I had hoped to see, but I imagine they were more historically accurate than the hooped skirts with eleven layers that many of us imagine everyone wore. Although the characters attended balls, luncheons and garden parties weekly, it never felt repetitive. Part of this can be attributed to the cast, many of whom I had not seen on screen before. Each actor managed to highlight the beautiful scenery while not detracting from their own characters. 
For those who rewatch "Pride and Prejudice" twice a month just to feel something, "Bridgerton" is certainly a must-watch. However, a second season is not guaranteed, so it might be fruitful to invest in the book series first. As popular as the show may be, I have virtually no doubt it will join the ever-growing list of series Netflix made that need more seasons but probably won't get them (shoutout to "i am not okay with this" and "The Society"). However, producer Shonda Rhimes, known most famously for "Scandal" and "Grey's Anatomy," is not one to stop after just one season, so there is still hope that we will once again hear the scathing words of Lady Whistledown.