'Folklore: the long pond studio sessions' was the album addition we didn't know we needed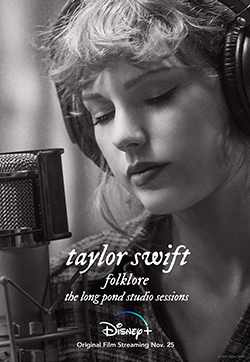 A little over five months after the release of "folklore," Taylor Swift released a film on Disney+ called "folklore: the long pond studio sessions." The film, released on Nov. 25, is a live performance of Swift's most recent album. It features two of its key contributors, Jack Antonoff and Aaron Desner, as well as a guest appearance from Bon Iver.
When Swift recorded "folklore," she quarantined separately from Antonoff and Desner, so they recorded the album from across the country. This film was a way for the three of them to meet up and play together in Long Pond Studios, a cute log cabin in the woods with a studio. With Antonoff on the piano, Desner on the guitar and Swift singing and playing the guitar, the trio played the album from end to end. Getting to hear the raw vocals mixed with the piano and guitar was a beautiful experience, and it was almost better than the album itself. 
The film alternated between the trio playing songs and Swift talking about the songs, her inspiration and how the album is supposed to feel. Advertisements for the film called it an "intimate concert," and that is exactly how I would describe it. Swift's vocals are so strong without any form of autotune, and her talent really shone through in this film (side note: the comeback of her "Red" era bangs was so iconic). Hearing the inspiration behind the lyrics and how the songs were made offered such a deeper insight that I feel like the Swifties needed to hear. So many fan theories have been suggested, and hearing Swift confirm some of them and give her fans that closure was really comforting. She revealed that William Bowery, who was credited on both "Exile" and "Betty," was actually a fake name for her partner Joe Alwyn, which shocked the world beyond belief. 
The album's earthy pop vibes make it Swift's first alternative album, and it was received better than she expected. Swift revealed that she was nervous to give the album to her producers, as she created it on a whim with no publicity beforehand. Within the first week of release, "folklore" was the best-selling album of 2020, staying in the top 40 of the Billboard charts for seven weeks. Although the album already feels natural and effortless, Swift's live performance was so much more powerful, putting all rumors that she isn't actually a good singer to shame.
Swift's performance was stellar, and she could not have sung any better if she tried. Not only is her talent insane, but her abilities as a lyricist are fantastic as well. Her unexpected quarantine productivity turned into a favorite album for many and one that perfectly captured the feeling of being stuck at home without ever really mentioning being stuck at home. If "folklore" was at the top of your Spotify Wrapped or if you just really like cottage core, this film performance is a must-see, or at least a must play in the background while you work.