MSMS Speech and Debate mid-season recap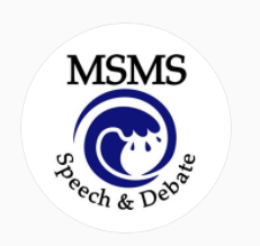 Although everything is held virtually, the MSMS Speech and Debate team has grown in the start of this tournament season. Recently, the team competed at Oak Grove, as well as the Florida Blue Keys tournament. The students who have competed along with those not yet engaged in competitions are very proud of the team's achievements so far, and the whole team is hopeful for continued success as the season progresses. 
Starting the season virtual, first-year students had a hard time adjusting; however, the team is working to prepare new competitors despite the restrictions, and they have noted that they have grown and shown much progress since the beginning of the year.
"Next semester, we plan to compete in more tournaments," said Co-President Michael Lu. "By then, [first-time debaters] will be grouped together with varsity debaters, so one of our broader goals is to help prepare our novice debaters to compete with a pool of experienced debaters."
Virtual tournaments are challenging for the whole team, but despite the challenges, they are all working together to achieve success. Students competing in the speech sections of tournaments only have to submit videos to be judged, but those in debate events participate virtually, risking connection issues and lag. 
"I'm very proud of the successes of our team," said Co-President Aaron Wan. "I think we are doing very well, especially considering that we have many first-year competitors and all tournaments and virtual this year—practicing and competing over Zoom isn't easy. Our varsity team members are doing a great job as well."
While not everyone has competed yet, the season is far from over, and participants from the team have placed in all three competitions. At the virtual Florida Blue Key event on Oct.30-Nov. 1, junior Andrew Yu and senior Aaron Wan competed in the Public Forum Debate and placed 28th out of 170, earning a silver bid to the Tournament of Champions. 
The team also competed in the virtual Oak Grove High School Tournament on Nov. 20-21, with more students participating. Junior Vineeth Vanga competed in the Congress Champion Original Oratory event and received sixth place, while junior Amy Zhang competed in a Congress event as well as the Duo Interpretation event with junior Jessica Yan, finishing third and fifth place respectively. 
"I'm happy with my personal success this season," Zhang said. "I've only been to two tournaments this year because of COVID, but both have been very memorable. Jessica and I placed in Duo Interpretation at a national circuit tournament, and I got third in Congressional Debate at our most recent tournament. I am very proud of myself and the team, and I have a lot of hope that my success will continue as the season goes on."
As for the future of the team, the season is just beginning, so all of the members plan to keep practicing and honing their skills to do well in future tournaments. Team members argue the most important thing right now is practicing as much as possible, and everyone is hopeful that despite COVID-19 restrictions, the team is able to refine and improve for a future of success.
"Our plans are to just keep practicing and competing and improving," said Wan. "It's definitely a lot more difficult to stay motivated because of the coronavirus, but I'm so proud of all of our team members for sticking through."