Snodgrass: Biden's cabinet picks not only diverse, but talented
President-elect Joe Biden has begun selecting his Cabinet members, and while his picks have been majority men and majority white, it still could be one of the most diverse yet—and a far cry from President Donald Trump's. Trump's cabinet consisted of 19 white men, three white women, one Black man and one Asian woman. Biden's list as of Dec. 3 includes five white men, three white women, two black women, an Indian woman, an Indian man and a Latino man.
Diversity is an excellent start, and I'm very glad to see it from Biden. However, policy, experience and skill are far more crucial, so let's break down the choices I'm most satisfied with, and that I believe will help lead the United States to a better tomorrow.
Biden created a new cabinet position, the Special Envoy for the Climate, which John Kerry is set to fill. The situation with the climate has been in a state of crisis, and now more than ever we need this position. Kerry has consistently voted to support a cleaner, greener future, and as such, I am pleased with his appointment.
The new nominee for Secretary of Homeland Security Alejandro Mayorkas is a Latino man and was instrumental in implementing the Deferred Action for Childhood Arrivals program (DACA) in only 60 days. He has experience working as Deputy Secretary of Homeland Security under President Obama, and I am confident that he is the sort of person the department needs in order to amend the horrors occurring at our border with Mexico. I have hope that DACA will be fully and effectively reinstated under his administration and that the US will become a more welcoming place for immigrants and refugees. 
Vivek Murthy is expected to be Biden's choice for U.S. Surgeon General. The COVID-19 pandemic still maintains its hold on the country, so the surgeon general must be prepared to take the lead in stopping the spread, distributing supplies and keeping the public up to date on research being conducted. Murthy has experience working as surgeon general under President Obama, so he is no stranger to the job. He believes that gun violence should be viewed from the lens of public health and advocates for public health reform via his foundation, Doctors for America. He will be more than capable of handling the country's health crisis, from COVID-19 to affordable healthcare, and I will feel more secure about the future with him as surgeon general.
Biden's selection for Ambassador to the United Nations is Linda Thomas-Greenfield, who has worked in foreign service for 35 years. Her coworkers speak to her warmth, kindness and intelligence, all qualities that I would love to see more often in Washington. Under the Trump administration's nationalistic policies, Ambassador to the UN became a defunct position, but it is thankfully being resurrected by Biden. Foreign relations are essential to running a country, and the Trump administration has cut ties with other nations too often, from dropping out of the Paris climate accords to withdrawing from the UN human rights council. Additionally, the effect of choosing a Black woman to represent our country to the world during a time of racial tensions will not go unnoticed. It's time for cooperation and growth, and Thomas-Greenfield will do just that. 
Biden has lined up selections for other offices as well: Ron Klain for Chief of Staff, Janet Yellen for Treasury Secretary (the first woman to hold that position), Antony Blinken for Secretary of State and more. All are experts in their fields and will do well at their jobs. Joe Biden so far has chosen a strong and diverse cabinet, and I look forward to seeing where the United States can go under their guidance.
About the Writer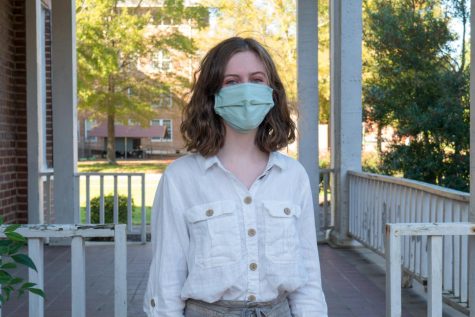 Jillian Snodgrass, Copy Editor
Jillian Snodgrass is a junior from Meridian, MS. They are very excited to express themself through writing for The Vision. Outside of school, they enjoy...