Creative Writing Club organizes Pay for a Poem fundraiser
As students are faced with the inevitable "Junior Mating Season" and many seniors are in relationships already, students look for some way to impress their significant other. Whether it be flowers or a card, students will do anything to get someone's attention. However, the Creative Writing Club is helping with just that with their new Pay For A Poem fundraiser. 
In this fundraiser, students get to pick what poem they want, and the topic of the poem. In addition, this fundraiser helps to fund the Creative Writing Club in competitions that they compete in throughout the year.
President of the Creative Writing Club, senior Felicity Browning, thinks that this is the best fundraiser they could have done because of how much it encourages the goals of the club. 
"It's really fun to see what students come up with," Browning said. "It's also a challenge as writers to take these subjects and make something fun and beautiful."
However, as members of the club get ready to start on their writings, many of the customers are excited about what is to come with the new fundraiser. One customer, junior Vidhi Patel, thinks that this is a great way to show how diverse MSMS students are in terms of their talents and thought processes. 
"I think it's a great idea," Patel said. "Especially with how differently everyone at MSMS thinks. Because of this, I think it'll be very interesting to read all the poems that are written."
Students are not the only ones that are excited about the fundraiser. Staff such as the club sponsor, Thomas Richardson, are looking forward to what is to come from it.
"We're basically piloting this idea, so I have no real expectations," Richardson said. "This is a relatively new club and this is a brand new fundraiser, so I just want everyone to have fun. It should be a fun experience for those who have requested poems and those who are writing them."
Despite being a fundraiser, money is the main objective. Many, like Patel, see this as a way to have fun with others, which is why they're participating. Richardson also thinks that there are many good outcomes to come from this.  
"I bought some because I thought that it was not only cute but funny," Patel said. "I could ask for a poem about literally anything and saw many opportunities for personal jokes and such."
"I'm not worried about the number of requests or how much money we raise right now," Richardson said. "We just want to see how something like this could work. I'm all for trying new things and learning from the experience."
As requests come in, both Richardson and Browning are expecting many good poems to come in and are excited for the outcomes of these poems.
"We've gotten quite a few so far and I'm very excited for the prompts we've received," Browning said. "The writing process will begin soon, and I can't wait."
"I haven't really looked into the details of what folks have requested, but my expectation is that MSMS students will want a mix of whimsical pieces and serious ones–both 'deep' and tongue-in-cheek," Richardson said. 
About the Writer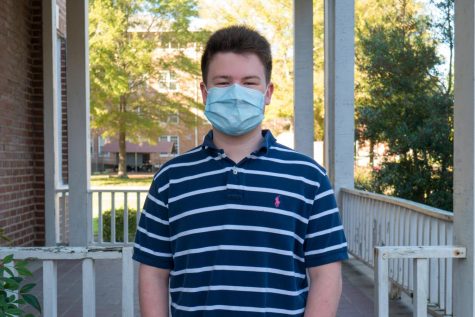 Hayden Anderson, Staff Writer
Hayden Anderson is a junior from Columbus, MS. Other than waiting for American Horror Story to shoot another season, Hayden enjoys his time hanging out...