Drama Club hosts Monologue Night
The Drama Club's Monologue Night was chock full of witty, gruesome, melodramatic and nostalgic scenes from seven different plays, movies and television shows. 
Seniors Gracie Rowland and Kate McElhinney as well as juniors Chloe Sharp, Madelyn Phillps, Scarlett Bedingfield, Caleb Jenkins and Lauren Hood showcased their theatrical talent in performing these monologues to an audience over Zoom on Wednesday, Nov. 18.
Phillips, who performed Maleficent's monologue from "Sleeping Beauty," described how she prepared for the event.
"I looked for a monologue that I loved, so I could have fun with it and get into character easily," Phillips said. "Then I just rehearsed it quite a bit. I usually memorize things like monologues and scripts quickly, so it was a quick and fun process."
Drama Club President Rowland discussed the joy she and others find in theatre, as either a theatrical performer or an appreciator.
"I loved performing for Monologue Night," Rowland said. "Theatre has a power to transform someone into a different person and transfix an audience, and I believe that every single performer reached that goal."
The audience, including English department teacher and Drama Club sponsor Dr. Thomas Easterling, was certainly transfixed. Easterling expressed his pride in MSMS being not only a school for math and science but one that fosters the arts as well.
"Our students thrive on creativity, and they express it in the fine and performing arts just as capably as they do in calculus and chemistry," Dr. Easterling said. "They displayed an incredible range, from melodrama to comedy to the macabre."
This theatrical facet of creativity can often lead to nerves before the big event, but for Rowland, the butterflies were more from excitement than fear.
"I wasn't very nervous because I've performed many times before, but I was definitely excited," Rowland said. "I believe that my monologue went well."
Not only does Drama Club nurture students' creativity, it creates a sense of community for its members. Phillips emphasized the importance of Drama Club in keeping her connected to MSMS while learning from home.
"I got to see people I haven't seen since leaving campus. The people at these events always create such a wonderful energy of friendliness and support," Phillps said. "They are all so talented. I just absolutely enjoy every aspect of the club."
If you missed this performance, there are to be more in the future.
"We have an Improv Night coming up, and other activities planned for the spring," Dr. Easterling said. "If you haven't participated in the club, or if you haven't attended a performance, opportunities still abound."
About the Writer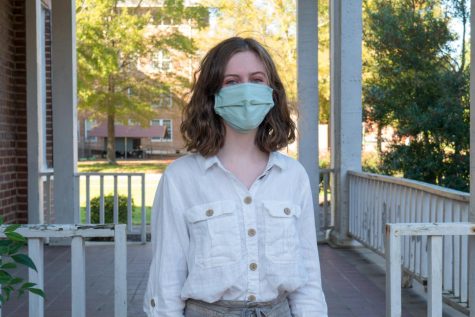 Jillian Snodgrass, Copy Editor
Jillian Snodgrass is a junior from Meridian, MS. They are very excited to express themself through writing for The Vision. Outside of school, they enjoy...