'Positions' orients just within boundaries Grande set out to push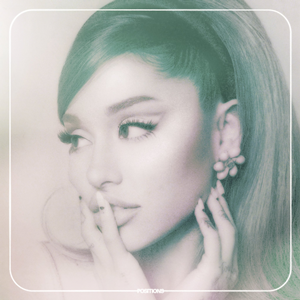 What matters more to you: music or lyrics? 
Whether it's from her role as Cat on Nickelodeon's "Victorious" or from any number of her Billboard chart-topping singles, chances are you've heard of Ariana Grande.  
The 27-year old childhood actor turned singing sensation established her reputation as a poppy and relatable artist through lyricism understandable to fans on a deeply personal level. Her top song "Breathin" off of the "Sweetener" album received accolades for shedding light on mental illness through an empowering lens. 
Recent albums "Sweetener" (2018)  and "thank u, next" (2019) were acclaimed by fans and critics alike as refreshingly relatable to fans both inside and out of Grande's usual audience.
Unfortunately, "Positions" lacks this powerful relatability.
Initially, I was shocked by the vulgarity of tracks on this album.  An unexpected nine out of 14 tracks are labeled explicit. Though expletives and promiscuity are not foreign figures to pop, rap and R&B scenes the pervasive obscenity was surprising– especially considering Grande's largely teenaged target audience.
More unexpected than the blatant dirtiness of these songs was their lack of personality.  Lyricism intertwined with personal affairs is characteristic of Grande's work; yet, this expected punch of personality was absent from the album.
At this point I feel I should reiterate my initial question. What matters more to you: music or lyrics? "Positions" features catchy pop melodies and fluttering vocals that easily set the album apart as easy and entertaining listening. However, the sexual overtones Grande features may turn listeners off of the album.
At the end of the day, music is about personal preference. In "Positions" Grande reveals her proclivity towards reformist approaches and views on mainstream pop culture. In an interview with The New York Times Grande stated, "My dream has always been to be — obviously not a rapper, but, like, to put out music in the way that a rapper does."
"Positions" begins this reformation of pop showcasing Grande's impressive vocal stretch.  Not only testing her range here, Grande also tests boundaries in "shut up."  The track kicks off with calming instrumentals, quickly followed by melodic plucking and airy vocals.  Lyrically the track follows in the footsteps of the "Sweetener" album, addressing that "All them demons helped me see s*** differently.  Already, Grande defies instrumental norms of pop music by choosing to incorporate a largely instrumental background and challenges lyrical norms by continuing the conversation of her struggles with PTSD.
Following this number is "34+35." Now testing what she can get past her audience lyrically, Grande includes a not-so-slick reference that grabbed a lot of listener attention. Also testing the allowable disparity between substance and sound, track "34+35" maintains the bubbly tone of "shut up" despite lascivious content.
As the next track in the lineup "motive" alters the album's sound to include faster tempos and trumpet instrumentals. "Just like magic" follows this number and features similar energetic vocals. Simplistic in meaning and in sound, "motive" and "just like magic" are two less radically reformist tracks on the album. 
Though branching out from mainstream pop, "Positions" was well within Grande's comfort zone.  
Hesitant to breach the realm of the familiar, Grande incorporates her signature breathy vocals into tracks like "six thirty" and "safety net."  These tracks bear the most resemblance to Grande's other pre-released music, flaunting Grande's fluid vocal runs and uncomplex yet catchy background music.
Conversely, "my hair" is a step towards the redefinition of Grande's sound.  Taking a more jazzy approach to romance, "my hair" highlights a new facet of Grande's musical ability.  The pop singer has superseded the realm of hyper-normative, and thereby forgettable, pop songs drifting, instead, towards slowed rhythmic beats and slightly soulful melodies.
"Nasty" is likely my least favorite track on this album. In this song, Grande uses lusty lyrics and hazy synths to convey the giddiness of being in love and the boost to libido new romance brings.  However, she does so in a way that attempts to push boundaries by normalizing "nasty" practices.  
Perhaps it's the romantic in me, but Grande's attempt to redefine pop music by pushing the boundaries of what content is and is not considered acceptable ultimately backfired.  
Pop and rap genres alike are overflowing with artists who readily produce music with graphic and/or explicit content.  Grande's explicit inserts in songs like "nasty" off of this album were unnecessary and did not achieve the boundary-pushing effect intended.
Once again, the album "Positions" fell short of real reformation and redefining of Grande's approach towards pop.
The last five tracks "west side," "love language," "positions," "obvious" and "pov" were nothing unprecedented by the previous nine.  They maintained the energy exhibited in most of the album and the increased use of instrumentals for background music.
Overall, I would give Grande's album "Positions" a 6/10. If Grande's goal for this album was to push the boundaries of popular music, there are definitely areas I would have liked to see more expansion. The majority of these tracks felt like continuations of the "Sweetener" album and lacked a certain uniqueness to the goal of redefinition specific to this album.  Further, the indelicate lyricism of many of the explicit tracks turned me off of what would've otherwise been catchy songs.  
It all comes down to that one difficult question: music or lyricism?
If you enjoy uptempo, catchy pop music and don't mind decent amounts of profanity Grande's recent album "Positions" is likely an album worth looking into.  If that description does not suit you, I really would not suggest listening to this album.