MSMS admissions continue amid pandemic
Despite challenges and restrictions posed by the COVID-19 pandemic, the MSMS Office of Advancement and Admissions is working full steam ahead to reach out and provide aid in the application process to prospective students.
Ms. LeighAlison Jones is the Coordinator for Admissions in the Advancement office, working year-round to ensure that MSMS will have eager new students year after year. She says that COVID-19 has affected her job most in the area of recruitment.
"In a normal year, I would be on the road in schools and doing Super Nights every other week from August until November," Jones said. "I typically go into classrooms and speak to students in person, but that is not really possible this year. We have had to cancel all Super Nights, all in-class visits, and Fall Preview Day."
These events are normally a core part of the MSMS admissions process. However, the Advancement office is making up for their absence with new virtual events perfectly suited for the COVID-19 era, and the senior Emissaries have been involved in these pandemic-accommodated events. 
Normally, giving campus tours is a big part of an Emissary's responsibilities. To comply with social distancing standards and shelter-at-home orders, this year the Admissions office has been working to create a virtual tour by piecing together video clips of Emissaries talking about and showing off various parts of campus.
Emissary Niyah Lockett was involved in the recording process for the virtual tour. A passionate student, Lockett loved showing off the MSMS humanities department to prospective students. 
"I got to give personal anecdotes to give the tour a more personal feel. It's so important for everyone to know that while MSMS is a STEM school, the humanities department is nothing short of phenomenal," she said.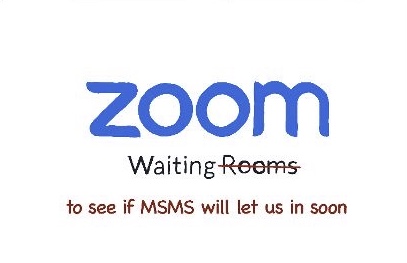 For now, the virtual tour is still under development. But another class of events, which are the most indicative of the times we live in, have filled the void left by Super Nights and Fall Preview Day: Zoom webinars. 
In these hour-long video calls, Jones and a few Emissaries discuss specific aspects of MSMS life and answer questions from prospective students about everything from study hours to Hogarth Cafeteria. 
"The webinars have been going great," Jones said. "We have had a ton of participation. Students have had a lot of questions about what to put on their resumes. They are also very interested in residential life and how to choose a roommate."
Lockett was involved in the Admissions Process webinar, in which she answered questions about required classes, essay writing, ACT scores and more. "The students asked really specific questions, so I could tell that they were excited about learning about the admissions process," she said. 
Addie White is a sophomore at Center Hill High School who is currently applying to MSMS. She participated in an Emissary Q&A webinar last month, and she says she loved hearing what actual MSMS students had to say about campus life and the academic culture at the school. 
"The tips and advice were extremely helpful to me in my writing, and I learned an abundance of new things about the school," she said.
Though this route of prospective student outreach is completely new to MSMS and the Advancement office, it seems to be working. According to Jones, admissions are proceeding a little more slowly this year, but not any less than is to be expected during the stress of the pandemic. 
"We are closing in on about 100 applications, which is a little less than typical for this time of year, but not so much to worry me," she said.
Lockett believes that MSMS is reaching out to more students now through webinars and social media than it could have before the pandemic. 
"Students who live farther away in the Northeast, the Coast and the Delta now have a greater chance of learning about MSMS," said Lockett. "I have so many underclassmen [from my home school] approaching me to ask about the application process, and I constantly post about MSMS on my social media pages."
White, though she is still working on her application, is very excited by the prospect of learning at MSMS.
"The most attractive thing to me about the school is the number of opportunities that you couldn't get anywhere else. If I get accepted, I'm most looking forward to making unforgettable memories with my peers and learning new things," White said.