Juniors move out as seniors move in
In MSMS's continued battle with COVID-19, many juniors' stay on campus has come to an end until next year. After their first three weeks on campus, juniors moved out this Friday, Nov. 6 as seniors prepared to move in on Sunday. Moving weekend was a busy time for all as the campus population shifted once again. 
Juniors whose senior roommates chose not to move in were given the option of remaining on campus until Thanksgiving break, an opportunity many juniors were more than happy to accept. Junior Lauren Hood expressed her contentment that she will be able to continue her on-campus experience.
"I'm happy that I get to stay on campus because I will get to play soccer and meet the seniors," Hood said. "[If I had gone] I wouldn't have gotten the 'MSMS experience.'"
Juniors who did not have the chance to stay had varying opinions on moving out. Joanna Dickerson, a junior who moved out Friday, explained how there were both pros and cons to going home.
"I liked the feel of the classroom, but I will not miss the restrictions," Dickerson said. "I'm sure if we all get to come in January it'll be amazing." 
Seniors expressed joy about moving in after spending so long away from the school they had come to think of as a second home. One such senior, Zach Medlin, did express some apprehension about the rising number of COVID-19 cases, with an average of 788 new cases per day in Mississippi in the last week. That didn't keep his excitement down too much, however.
"I am so excited to move in," Medlin said. "I am a bit scared about it all since cases are on the rise again, but I think we'll be able to make it through."
Seniors who elected to remain virtual for the next two weeks primarily cited safety concerns surrounding the current situation. However, MSMS staff has put precautions in place, such as random testing and daily temperature checks, to ensure student safety.
Those who stayed on campus explained how both the community aspect of MSMS as well as the focus-conducive environment were the biggest reasons for their decision to come. 
"Keeping a productive schedule was much easier on campus," Medlin said. "There's nothing like doing three days worth of procrastinated work in a marathon session in Fant."
Hood agreed with Medlin on the advantages of an in-person learning environment and described how she felt about getting to spend more time with the people she has grown close to in such a short time.
"I am missing my family and friends back home a little bit, but my MSMS family makes up for it," Hood said.
This school year has been unlike any other and many have been disappointed by the changes; nevertheless, students are looking on the bright side and trying to make the best of it.
"People and relationships are what really matter at MSMS," Medlin said. "Bring on the rolling chair jousting and the late weekend talks."
About the Writer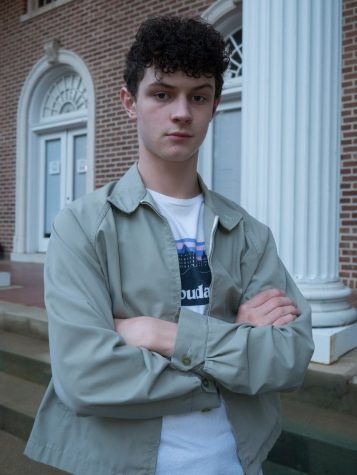 Caleb Jenkins, Entertainment Editor
Caleb Jenkins is a senior from Columbus, Miss. He has a strong passion for the arts, especially music and film, and he plans to pursue a career in one...