Netflix kicks off the Holiday Season with 'Holidate'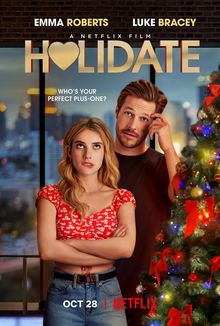 Since Halloween has ended, the season of cutesy holiday rom-coms has arrived and I am here for it. Yes, scary movies are nice, but I will always be a sucker for a cheesy rom-com. Granted, most of them are pretty awful (which is entertaining), but sometimes they can be pretty sweet. Netflix has had some good rom-coms, like "Set it Up," and some bad ones, like any that star Noah Centineo. Netflix's new movie "Holidate" is entertaining and perfect for the holidays.
Annoyed that her family is overly invested in her love life, Sloane (Emma Roberts) decides to have a date purely for the holidays. She finds Jackson (Luke Bracey) while returning a pair of Christmas pajamas and they decide to be each other's "holidates," i.e. they spend the holiday with each other to avoid romantic pressure during the holidays. 
Following in the footsteps of movies like "Sleeping with Other People," "No Strings Attached," and "Friends with Benefits," Sloane and Jackson start spending holidays together in such a way that makes it seem they just need an excuse to hang out with one another. Holidays like Cinco de Mayo don't really need a date, yet we get a scene of Sloane and Jackson chugging tequila together. 
Yes, this movie is predictable, like most rom-coms, but no one watches holiday rom-coms for some sort of M. Night Shyamalanian twist at the end. People watch them because they are cute and sweet and they make the world seem a little more romantic than it actually is. 
Both Roberts, who is an icon, and Bracey have wonderful onscreen chemistry and not in a gag me cutesy kind of way. Their romance certainly is slow, as they spend most of the movie pretending to not like each other before they actually admit their feelings. This, however, allows for plenty of time to enjoy their dancing around before the movie gets more serious and sappy. 
Overall "The Holidate" is an entertaining movie and a great start to the holiday season. Roberts and Bracey have great onscreen banter and chemistry that keeps the movie interesting and funny. Plus it is nice to see a holiday rom-com about two normal people instead of princesses or wealthy heirs or any other overly cinematic holiday trope. Hopefully Netflix will continue to release cute holiday movies, especially during a time when most people can't be with those they love for the holidays.