Election night watch party helps students de-stress
Election night can be a stressful time, and being alone with one's thoughts often compounds that stress. To help alleviate that, the Young Democrats hosted an election watch party via Zoom for several hours on November 3, during which participants could monitor the results as they came in and engage in conversation with their peers. 
Senior Colin Gordy expressed his anxiety about the election and its potential aftermath.
"If I'm being honest, the election has me a little worried. It's not an 'I hate Trump and want Biden' thing, but it's more of fear about the aftermath of the election. I know that whoever wins, the country is going to be chaotic and we're going to witness a lot of violence," Gordy said.
Despite the serious circumstances, the conversation between Zoom participants was light and kept everyone's spirits up. Junior Mikayla Jones stated that the watch party helped her relax and let go of some worry.
"I felt so scared at first but my nerves have calmed a bit. It was good to be able to talk to my fellow classmates about important things happening in our country," Jones said.
While the results for the presidential race were inconclusive on election night, the results for three ballot measures that Mississippians voted on were evident. Mississippians voted to remove a Jim Crow-era election law, legalize medical cannabis with a doctor's recommendation and accept the design for a new state flag. 
"I'm so incredibly glad about the flag change," senior Gracie Rowland said. "When I heard, I cried; it's such a win for Mississippi to leave its history with the Confederacy behind."
Gordy was also pleased with the results of the ballot measures.
"I'm really proud of the voters in this state for adapting a new state flag and also approving Initiative 65. I feel like medical marijuana will help a lot of people in the long run," Gordy said.
Gordy, Rowland and Jones all encouraged other students to attend future watch parties.
"Watch parties are a great way to hear other people's opinions and just have a good time," Jones said.
About the Writer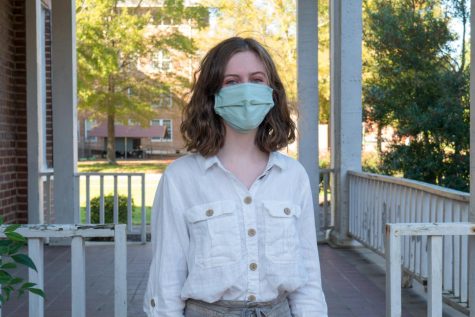 Jillian Snodgrass, Copy Editor
Jillian Snodgrass is a junior from Meridian, MS. They are very excited to express themself through writing for The Vision. Outside of school, they enjoy...