Juniors move in for second quarter
Like their predecessors, MSMS juniors finally completed the tradition of moving onto campus over the weekend. However, unlike their predecessors, this move took place one quarter later than normal.
On Saturday, all students were greeted with a rapid COVID test, which produced results in ten minutes. Students were only allowed to continue moving in if they tested negative.
"Safety was the most important part of the process," Goen Hall Director LaToya Bledsoe said. "We administered temperature checks and COVID-19 tests, and everyone wore masks and maintained their distance."
Afterwards, students moved into their dorm rooms. For some students, this is their first experience living away from home, so many made sure their rooms felt warm and welcoming. This was also the first time students got to meet their peers face-to-face.
"My favorite part of the day was decorating my room and helping others decorate theirs," junior Alexis Tran said. "It was a teenage experience that I never had."
In order to prevent the spread of COVID-19, no more than three people are allowed in a room at one time. Additionally, students do not have roommates, but they share their suite with another student.
After moving in, senior Emissaries guided the juniors through a campus tour. These small group sessions allowed juniors and emissaries to bond without a screen between them.
"It is most definitely easier to connect with my juniors in person," Emissary Madison Meeks said. "I love that I can just stop by their rooms and chat with them. It is such an integral aspect of the MSMS experience."
Juniors concluded the night with dinner and an outdoor movie on the PAC field. Many students used this time to further socialize, though some disliked the proximity to nature after spending months at home.
"The only complaint I have about the movie night, while it was a good attempt to allow students to get to know each other better, is that the damp grass made sitting on the field an uncomfortable experience," junior Sam Sun said.
After movie night, juniors had a few hours of free time before their first room check, which many used to meet more people and socialize.
"My favorite part of the day was after the movie when I went to the Frazer lobby to play ping pong and air hockey," junior Amanda Zhou said. "I liked that we were given free time to hang out with our friends."
On Sunday, students started their day with brunch in Hogarth cafeteria. The cafeteria's safety precautions only allow two people per table. Most students recognized the need for these restrictions.
After taking the junior class photo, Emissaries led juniors through orientation. Students learned about student affairs, academic affairs and campus safety and had the chance to pick up their textbooks for quarter two. In the evening, juniors attended virtual floor meetings and reviewed dorm etiquette before resting for their first day of classes on campus.
Move-in was overwhelmingly received positively by staff and students alike. Junior Dalton Rainer, who had lived on campus during quarter one, was happy to see his friends in person after only seeing a few students on campus.
"Campus is certainly more lively than it was before people arrived," Rainer said. "Before today I hardly saw anyone outside of the cafeteria. However, it's hard to say if it's going to be better or worse with more people on campus as we now have more complications that could arise."
Director for Student Affairs LeAnn Alexander agreed that COVID-19 made move-in more complicated, but was optimistic that MSMS would continue to stay safe and follow health guidelines.
"We enforced our safety guidelines with minimum disruptions," Alexander said. "I believe that move-in day was a success overall, thanks to the effort we put in planning and creating an effective process. My favorite part of the day was seeing our juniors interact with each other after only being able to see them virtually."
The sense of camaraderie among the juniors has increased Meeks' excitement for senior move-in on Nov. 8, as she believes move-in will similarly go smoothly. Until then, she wishes juniors the best for their three weeks at MSMS.
"I hope that all of the juniors enjoy the residential aspect of MSMS life, for it really emphasizes community, love, support and motivation," Meeks said. "Overall, I hope juniors have a wonderful time starting their MSMS journey anew."
About the Writer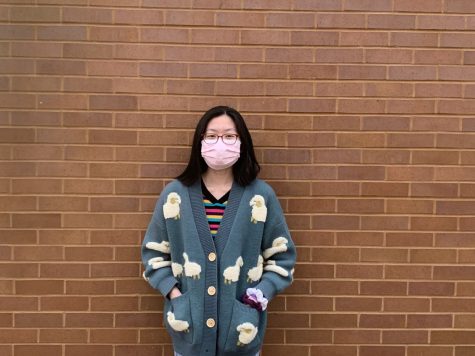 Amy Zhang, Copy Editor
Amy Zhang is a junior from Starkville, MS. She likes Avatar: The Last Airbender and two-dimensional geometry. In her free time, she dabbles in painting,...