Students set to return to campus 
This year, the students of MSMS have not yet had the opportunity to officially attend school on campus; however, Dr. McConnell, along with planning committees and the COVID-19 advisory board, have drawn up a plan for the second quarter with opportunities for students to move in periodically. This plan was presented to the students in recent class meetings and in the fall update from Dr. McConnell. Although this plan is subject to change, students and staff feel optimistic that there exists a good chance of success, and ideally, the entire student body will be in attendance on campus by the spring.
​"I'm excited for move-in day to happen," said Director for Student Affairs LeAnn Alexander. "We've worked hard to plan for a safe and successful return of our juniors. COVID-19 has been something we've never experienced, so we've had to think outside the box."
For now, move-in day for the juniors is scheduled on Saturday, Oct. 17. Juniors take priority over seniors in this regard because the majority of the junior class has yet to reside on campus.  The juniors are excited to finally experience life on campus.
"I'm really excited to move in and finally meet the friends I've made at MSMS," said junior Madeline Raynor. "I'm relieved that we get to move in first so we can get to know what it's like to live there for a few weeks. We can finally get a relatively normal MSMS experience."
Juniors will stay on campus for a total of three weeks and move out on Friday, Nov. 6. Seniors will be able to move on to campus Sunday, Nov. 8, giving them the opportunity to attend classes in person before Thanksgiving.
"I definitely think the new move-in dates are better," said senior and Emissary Natalie Staggers. "Especially since we may not be able to come back after Thanksgiving, it would mean a lot to me to be able to see my friends again."
Many students in the senior class haven't seen each other since March of last school year, and since the seniors will move in even later than the juniors, some of the staff members have planned some activities for seniors to reconnect with each other. These activities, such as hiking and movies on the PAC field, provide a chance for seniors from all over Mississippi to see each other again.
"I have really been looking forward to seeing my friends again all year," said senior Chandler Bryant. "The chances we get to all see each other at the same time are few and far between." 
In order for students to be able to move in and live on campus, COVID-19 infections among students and staff have to be carefully monitored and controlled. For this reason, all juniors planning to move in next weekend are being asked to self-quarantine for at least a week before the move-in date. If a student living on campus leaves for any reason, that student will be asked to remain at home for the remainder of the term.
Additionally, all employees will be tested for the virus before the students arrive, and all students will be given a rapid COVID-19 test upon moving in. There will be random testing each week throughout the period of residence, and students who test positive will be sent home immediately to quarantine and recover. While these testings will be optional, everyone who refuses to take them will need to self-quarantine. In order for everyone to be back on campus, Dr. McConnell has decided there must be 100% participation in rapid COVID testing from the student body.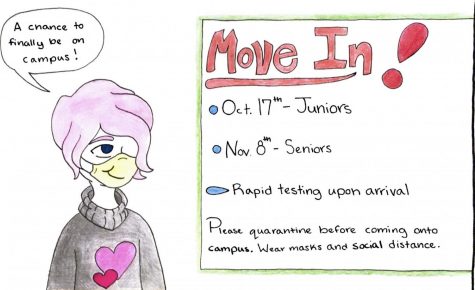 "The rapid testing sounds like a good idea," Bryant said. "If it is implemented correctly, it could potentially save us from having a COVID-19 outbreak at MSMS." 
Life will be very different for students residing on campus due to restrictions and regulations being put into place for the safety of everyone on campus.
All students and staff members will be required to wear masks when around others while also socially distancing with at least six feet of separation. Students can host up to two other students in a dorm with them at a time, but everyone must wear masks, and the door to the room must stay open.
"I think a large part of the juniors decided to come to MSMS in hopes of building a strong sense of community," said junior Amanda Zhou. "But this is greatly limited by three people per room policies and strict privilege plans. It's not very realistic to allow juniors onto campus after months of anticipation, yet restrict plans so harshly."
There will also be regulations put on the student facilities, such as the dining hall, library and Stark Recreation.
During mealtime in the dining hall, students can only sit with one other person at each table, and there will be takeout options available for students who would prefer to dine alone.
In the library, there are time restrictions set in place, and students must make appointments to access the computer lab and archives. Similarly, while juniors are on campus, Stark Recreation will be in phase one of operation, meaning it will be open from 6:00 a.m. to 6:00 p.m. Monday through Friday. Later phases will be implemented tentatively based on the success of phase one.
"I think all of these restrictions are logical," said junior Vidhi Patel. "I originally felt a two per table rule in the dining hall was a bit questionable, but considering the fact that we have to take our masks off and we will be eating, it is understandable."
The academic environment and student experience at MSMS has changed dramatically from what the seniors experienced, and it is going to look different than what the current juniors ever expected. However, students and staff are optimistic that everyone will be on campus and back to normal as soon as possible.
Administrators believe these precautionary steps and regulations will best ensure health and safety throughout this pandemic and make it possible for students to have a normal MSMS experience in the near future. 
"We will continue to meet with committees established to evaluate the plan," said Executive Director Dr. McConnell. "Ultimately our goal is to get all students on campus at the same time in the spring semester. The way students respond to rules during second quarter will give us insight into how possible this will be."