Waves tune up for North State 
The MSMS swim team swam in their third meet last week, continuing their successful streak. On Tuesday, Oct. 6 the team went to Tupelo to swim one more time before the North State meet. It was the team's first time bringing a relay team, and six of the seven swimmers had qualifying times for North State.
The team consisted of seniors Micheal Lu, Hardy Cooke, Matthew Dunn, Mabrie Woods and Camille Newman and juniors Andrew Yu and Jessica Yan. 
Yu, Cook, Lu and Dunn placed fourth in the 200 yard medley relay with a time of 2:11.03. They also placed fifth in the 200 yard freestyle relay with a time of 1:57.44. The boys also swam the boys 50 yard freestyle, with Yu placing fifth with a time of 24.93. Lu, Cooke and Dunn had the times 25.69, 26.19, 38.42, respectively. 
Jessica Yan came in third in the 200 yard freestyle with a time of 2:11.84. Team captain Camille Newman came in twenty-third place with a time of 33.55.
The swimmers seemed satisfied with their performance, more than their last meet. Many were happy with their lower times.
"I was really happy with everyone's personal growth. I saw a lot of times cut down, and a bunch of new qualifying times," Lu said.
While the swimmers were positive about the upcoming meet, they also expressed some difficulties. This problem roots from not being able to practice in person—something out of the swimmers' control.
"Preparation is mostly done on an individual basis since we're all virtual. One thing that is hard for us at Starkville is that there isn't a pool available to us here, so we have to drive to Columbus to practice," Yu said. 
Still, the swimmers don't let these disadvantages discourage them. Instead, they express positivity towards one another.
"I am more than enough satisfied with how our team does considering we're so small compared to other schools," Yan said. "I know it's hard to get faster when we're not practicing together, but we just have to work with what we have."
With how far they have come, Yan is only wanting to reach for more at the next meet.
"I hope that we can all give it our all—go big or go home—so that we can leave no regrets after each swim," Yan said.
About the Writer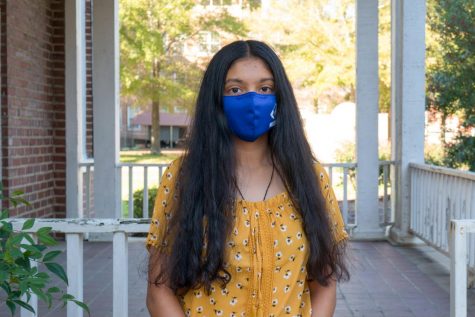 Vidhi Patel, Staff Writer
Vidhi Patel is a junior from McComb, MS. Her favorite thing to do is play tennis when she should be doing homework. She plans on going into the medical...