Lady Waves kick off training this week
It all comes down to the wire, and all eyes are on the ball. Dodging approaching contenders left and right, the player hurriedly races across the field. Taking one last breath, she drives the ball towards the goal.
Score.
Coming off a promising season last year, the MSMS girls' soccer team is finally kicking off at-home training this week in preparation for their upcoming season.
Many students expressed interest in the sport, and coach Chuck Yarborough was delighted to see such a large number of students willing to participate, even through a pandemic.
"Over 20% of our student body has signed up for soccer this year, which is about average," Yarborough said. "I'm pleased that our school supports soccer. Clearly, a large proportion of our students recognize team sports can be a wonderful contributor to physical as well as mental wellness."
Due to the Mississippi High School Activities Association (MHSAA) restrictions, the soccer season for Mississippi schools will not officially start until Wednesday, Oct. 14. With the pandemic leading to distance training for the girls, getting back in shape and on track for this season will look slightly different than before.
However, captain Amanda Anderson is determined to make this year the best as it can be given the circumstances. To prepare for the season, Anderson has developed a set of workouts for the team. 
"Currently, I have created some workouts for the team to try and accomplish every week. Also, the school is sending out soccer balls for those who do not own one," Anderson said.
As the workouts roll out, Anderson has set both simple and high goals for this season.
"Naturally, playoffs will always be a goal for a high school soccer team," Anderson said. "However, it seems a little out of reach for a team that has never met. With all the uncertainty circling around this season, my biggest goal is to have at least one practice as a team. My goal for the team is to learn the playing styles of our teammates and to prepare the juniors for next year."
With the upcoming season nearing, Coach Yarborough has also set some expectations for the team this season.
"This is my seventh season coaching the girls at MSMS, and as every year, I expect everyone to work hard and to work together to improve as individuals and as a team," Yarborough said. "The two great lessons to be gleaned from team sports are if you work hard at something, you can improve yourself, and if you work together, you can improve your group/team/community. If players internalize those two lessons, we'll have a successful season."
With these goals and expectations in mind, captains and players alike are worried about the challenges that may arise. Returning senior player Karlene Deng mentions the possibility of canceled games and lack of team bonding.
"I think the worst-case scenario is that we won't get to play as a team, meaning with both the seniors and juniors," Deng said. "From what I've experienced last year, the girls' soccer team is much like an activity that everyone can enjoy, pressure-free. And the best part is meeting your fellow classmates and doing something fun together. So, the biggest challenge would be not having the team coordination and bond because of social distancing." 
However, even with these possible obstacles, Deng is unfazed and hopeful for the upcoming season, expressing that everything will work out in the end.
"For our team, I think the important thing is that we all have fun and play the sport well. Although we are facing different circumstances compared to last year, I still expect us to build that team bond and really just enjoy playing the sport. Just like last year, we're not necessarily going in with the motive to win every single game," Deng said.
Coach Yarborough also notes the importance of team spirit, which poses a difficulty due to current distancing measures, but can be resolved with the team's ability to adapt to any situation.
"The greatest challenges this season will be how to create teamwork and team chemistry with only half the players being on campus at a time. The MSMS girls team has always done a great job of building team chemistry – I like to say they are the 'Soccer Sisters' – and I'm sure we'll do so again this year," Yarborough said.
Furthermore, Yarborough has been taking on his role as a coach by reaching out to motivate his student-athletes.
"As coach, I communicate with players (in season and out) encouraging them to take advantage of the opportunity to improve as an individual and as a teammate," Yarborough said. 
Even during this unprecedented time, the coaches, co-captains and players are persistent in making this season truly a one for the books.
"Regardless of the situation, I'm really excited to get the chance to play," Anderson said.
About the Writer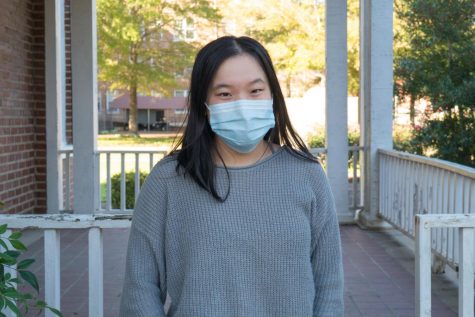 Jessica Yan, SGA Correspondent
Jessica Yan is a junior from Starkville, MS. She is a member of the swim team and the Speech and Debate club. She likes to spend her day chilling at the...