MSMS swimmers qualify for North State
 The MSMS swim team rode the waves of their success from their first swim meet last week. Four MSMS swimmers—Michael Lu, Camille Newman, Jessica Yan and Andrew Yu—had qualifying times for the upcoming North State meet.
These four swimmers, along with Mabrie Woods, represented MSMS at the Tupelo Aquatic Center on Tuesday, Sept. 29. Yu and Lu qualified in the 50 yard freestyle with times of 24.73 and 26.47, respectively. Newman qualified in the 50 yard freestyle with a time of 33.56, and Yan qualified in the 200 yard freestyle with a time of 2:12.73.
Newman and Yan had already competed in last week's meet and qualified in three other events, while this meet was the first of the season for Lu and Yu. Despite the nervousness some members had about swimming for the first time in a while, the team still succeeded in several events.
"I felt great about the team's performance," captain Newman said. "This was the first meet for several of the team members and they did amazing. It was great having more of the team together at this meet."
Yu was also excited about qualifying for North Half relatively early in the season.
"I only had a few practices before the meet, so I felt good about my results for this first meet," Yu said. "I'm just focusing on having more improvement with more practice."
The team is looking forward to their North Half meet in mid-October. They are training to improve their times for the important competition, and many swimmers have high hopes.
"I think the main thing that we have to focus on is getting back into the best shape that we can be before North Half," Yan said. "I also hope that we can form relays at future meets. We just need to find one more swimmer for both the boys and the girls to compete in relays so that is something I'm looking forward to possibly seeing."
Newman believes the team owes much of its success to MSMS coaches, who have done the best they can in helping the team during a pandemic.
"I want to say a big thank you to Coach Scott and Ms. Alexander for helping us have this season, and a huge thank you to Coach Chris," Newman said. "He has been an incredible coach and has stuck with us through all of the craziness of COVID."
Coach Chris Chain expressed his excitement at having several qualifiers for North Half. He is optimistic about getting team members to qualify for future competitions as well.
"We are getting better every week," Chain said. "I'm hoping we can make more individual times next week so we can qualify for state championships after North Half."
The team's success has encouraged Yan, who is looking forward to competing at future meets.
"We just have to be confident with every stroke we take," Yan said. "Even if you're competing against some of the best swimmers in the state, you can always work hard to chase them down."
About the Writer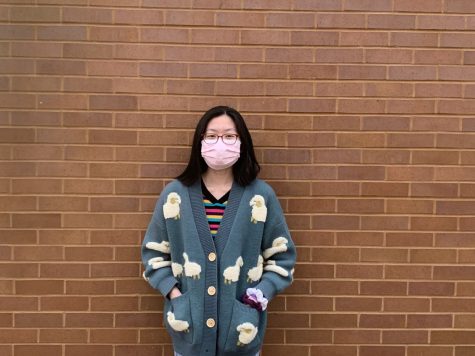 Amy Zhang, Copy Editor
Amy Zhang is a junior from Starkville, MS. She likes Avatar: The Last Airbender and two-dimensional geometry. In her free time, she dabbles in painting,...