'Esports changes every single day': Sam Hill encourages esports at MSMS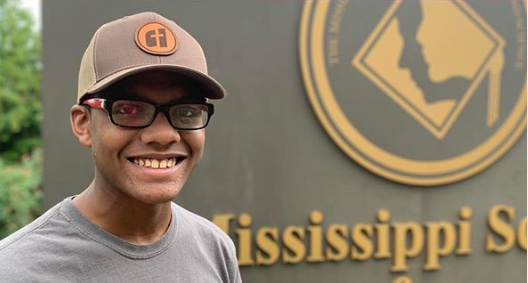 The eyes of the crowd are glued to the screen in front of them, some of them were even wearing team jerseys. A flash of bright lights from the screen illuminates the stadium and are instantly followed by an enthusiastic uproar from the audience as they all stand up to wildly clap and holler. A team of five people wearing jerseys runs to the front of the stage and hoists a large glimmering silver cup into the air as the audience looks on in awe.
Is it the Super Bowl?
The NBA finals? 
The Olympics? 
No, it's the 2019 League of Legends World Championships, held in Paris, France.
Competitive games such as League of Legends, or esports, have started to gain wide scale popularity and have found their way into mainstream culture on a global scale. This influence holds absolutely no boundaries, a fact that Sam Hill, a senior at MSMS, would seem to agree with. This year Hill established the first ever competitive esports team for MSMS.
For Hill, esports has become more than just a fun hobby—it's become a world of an escape from today's "new normal."
"Esports interests me since it allows me to hang out with my friends from just any distance. Especially during COVID-19, the weekends are so much more enjoyable now," Hill said.
Esports, unlike other types of sports, has individualized itself due to its ever-changing nature
"I have done tennis, volleyball and Ping-Pong, and they all have been great experiences, but esports changes every single day, so the same game you played a year ago, a month ago, a week ago, will be totally different," Hill said.
For many, the road to becoming immersed in esports is not an easy one. Getting through school regulations and making a positive case as to why competitive video gaming should even be allowed at STEM school is a challenge already, but Hill said that his motivation stemmed from a single moment on the League of Legends pro scene.
"The moment that made me want to start the team was the famous Lee Sin Insec. Insec played in the jungle role which I do as well and it made me want to do so much better to support my team," Hill said. "There are so many students who play video games at this school and the fact that they had no way to show their skill in competition was upsetting to me."
Hill makes it clear that the benefits of esports seem to be fruitful.
"By having a stage they can perform on, I feel as though that will excite students to get better at an activity they already love," Hill said.
The future of MSMS's team esports team holds many uncertainties, but Hill already has plans for where he wants the team to end up. 
"Since PlayVS only had five games to choose from, I hope to see the future of MSMS esports with more games to choose from and schools that we could be proud rivals of," Hill said.
Though the future of the MSMS esports team looks bright, Hill also acknowledges the fact that it will take a lot of hard work to get the team to a place that can be deemed "satisfactory"
"I would personally love to see us go to state, whether I'm on the team or graduated, but we've got some work to do and I'm excited for it," Hill said.