Seniors co-write original play
As MSMS presents students with the "opportunity for excellence," many of them take big leaps. As some write books and others make movies, others have different ideas. In seniors Gracie Rowland and Blake Cheater's case, they decided to write a play.
As Rowland and Cheater were in their University American Literature class, Dr. Easterling asked his students what he should do for online tests. As many students got "open book tests" or "no tests" as an answer, Rowland and Cheater thought of something else.
"We 'virtually' locked eyes," Cheater said. "It kinda stemmed from the idea of Dr. Easterling telling us that if we wanted to make a play, we could and should. 'A Streetcar Named Desire' was made by a Columbus native, why couldn't we make one?"
After class ended, Cheater and Rowland decided that they were going to make this a real play and it was going to happen. As they have worked hard over the summer in collaboration with Dr. Easterling, Cheater and Rowland made "Church Bells Ringing," a symbolic play that means something to both of the writers.
Rowland shows her interest in the story's romantic elements.
"It is about the emotional undoing of the two main characters, James and Celeste," Rowland said. "It honestly focuses a lot on love through the eyes of someone with a mental illness; in other words, the two characters think they are in love, but they really have attachment issues. It also focuses a lot on religious confusion, grappling with morality and not knowing who you are without the universal moral code."
Similarly, the play has an important meaning to Cheater.
"Honestly, this whole play is about having, dealing with, and understanding trauma," Cheater said. "A lot of it has to do with many religious themes and overall, there is a lot to unpack from the play itself."
As students do these independent projects on top of the challenging courses from MSMS, they try to give back to the students as much as they possibly can. Rowland, president of the Drama Club, thought of the best way to give back to MSMS using her resources and her club.
"We plan on showing it to the student body," Rowland said. "It will be performed by the Drama Club, and if we have enough time, it will be made into a short film by the cast members as well."
As Rowland and Cheater put everything together for their new play, they anticipate that in the end, the play will be a success and an inspiration.
"It really is amazing how it just sprouted from that one idea we had in Dr. Easterling's class," Cheater said.
About the Writer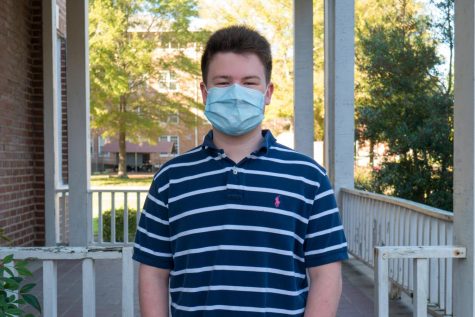 Hayden Anderson, Staff Writer
Hayden Anderson is a junior from Columbus, MS. Other than waiting for American Horror Story to shoot another season, Hayden enjoys his time hanging out...