Djedjos & Vanga: Mississippi schools should have handled reopenings amidst COVID-19 better
September 9, 2020
As the back to school season powers ahead nationwide, a difficult question for many families has presented itself at the front of their doorsteps: whether to send their children to school in person or not. For some, this question has a straightforward answer. However, many remain unsure on sending their children to school or keeping them home—safety being the determining factor. Yet the evidence is clearer than ever: students attending school in person are at high risk of catching the novel coronavirus and potentially exposing it to their families. Even as early as Aug.15, high schools around the nation have chosen virtual learning options to combat rising infections within the school population.
Despite this, Mississippi high schools are powering ahead with brick and mortar classes. Mississippi is not immune to this sweeping pandemic; in fact, the state has one of the highest COVID-19 test positivity rates in the nation, a whopping 14.5%, as of Sept. 2. This statistic indicates that there is an alarming test deficit in the state, meaning that there are potentially asymptomatic carriers of the coronavirus that still have not been tested. This, in addition to loud concerns of student safety, proper sanitation protocol and social distancing adherence, begs the question: "Should Mississippians return to in-class schooling?"
After interviewing multiple high schoolers across the state of Mississippi on how they felt about their prospects of returning to school in person, and how their school was personally trying to stymie the number of COVID-19 cases, we found a common trend in the returned responses: they all concluded that they would not be surprised if their school became a hotspot for COVID-19. 
Students across the state agree that no matter how much the state government wants to try to make sending kids back to schools in person a "good practice",  the idea is a ticking time bomb waiting to go off at the most inconvenient time. 
"I would never feel safe returning to a public school in the middle of a pandemic," articulated Dania Zein, a junior from Northwest Rankin High School in Brandon."A Mississippi public school is no exception.'' 
Zein continued, "The more I thought about it…the more I realized that at a school with over 1,000 students, there would be no possible scenario that they could implement that would not be dangerous in some way. I remembered how all the years I spent there, there would be times when I'd walk into the bathroom and find no soap or paper towels. Because of that, and the lack of safety measures outlined in the back to school plans, I do not feel safe going back to schools." 

Concerns about returning to school are not confined to students; parents share these reservations. 
"My parents and I have concerns about class switches since the halls can get pretty crowded, and lunch, too, since the cafeteria is only so big. The school has plans for both, so I feel a bit better, but still I'm hesitant," stated Yumnaa Shaheen, a junior from Madison Central High School.
These concerns from both Shaheen and her family are not anomalies. Junior Audrey Hirschfield from Northwest Rankin High School has similar concerns, but in her case, they've transcended the realm of hypotheticals: the lethality of COVID-19 is real for Audrey.
"Concerns I have about going back to school include getting infected myself and worsening my father's condition as he has been recovering from COVID-19 for over five months now," Hirschfield said.
In the midst of the pandemic, schools have been drafting new policies to reduce the likelihood of infection. While some changes, like mandatory mask-wearing, provide a sense of safety, others seem to lack crucial sustenance. 
"There are times for different groups to switch classes, but each group gets three minutes, so I don't know how that'll work out. I can't imagine people will social distance when walking. But masks are mandatory, and we have a more spread out lunch schedule too," Shaheen said. 
Proper mask-wearing and social distancing, on paper, are enough to warrant the "safe" reopening of schools.  In practice, appropriate social distancing in a hallway, regardless of timing, is a challenge for schools to maintain. Even with stringent school policies, the coronavirus transmission can and will occur due to unchangeable factors like faulty ventilation and long shifts in close proximity. There's just no way to cover all the bases. 
One of the biggest dilemmas faced by school districts is the trade off between quality and safety of education. Specifically, many students and parents alike question the effectiveness of distance learning.
A junior from Oak Grove High School in Hattiesburg who wished to remain anonymous had some words to say about the successes and failures of their school's virtual program. 
"It's fine for the most part, but the online kids are spending literally all day doing work. I wake up at 8:00 in the morning every day and stay up until 2:00 every night just doing work and I often don't even have time to study. This is just from written assignments," the anonymous student said.
For Madison Central, Shaheen explains that choosing to go for the virtual option isn't just a question about academics, but also for student's extracurriculars. At Madison Central High School, any students who choose virtual schooling are not allowed to participate in the majority of their extracurricular activities. 
"Doing virtual means I can't participate in clubs and personally since this is my junior year I would feel better if I could participate in clubs and have the classes that I want to take with the teachers I know."
Some of these activities such as speech and debate, academic competitions and Model UN are critical aspects of some students' high school lives.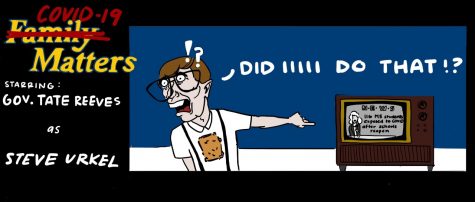 It seems that Mississippi leaders are planning for damage prevention rather than damage control. Though going to school in-person certainly has its benefits such as the increased social and emotional health of students, those benefits pale in comparison to the risk of coronavirus exposure to students and teachers alike. 
Schools reopening is not a black and white issue; if schools must open in-person, hybrid capabilities provide a grey area for students to learn both on and off of campus. Greatly reducing the chance of infection while also providing the benefit of in-person learning, hybrid learning systems appear to be the best possible solution to the economic and educational curveball COVID-19 has been. Fortunately, the Mississippi legislature has a myriad of tools at their disposal to implement these hybrid systems and curb infection rates in schools. 
We can only hope that officials in Mississippi will make the best decision possible about reopening school with both the education and well being of the students in mind.