MSMS junior starts her own clothing line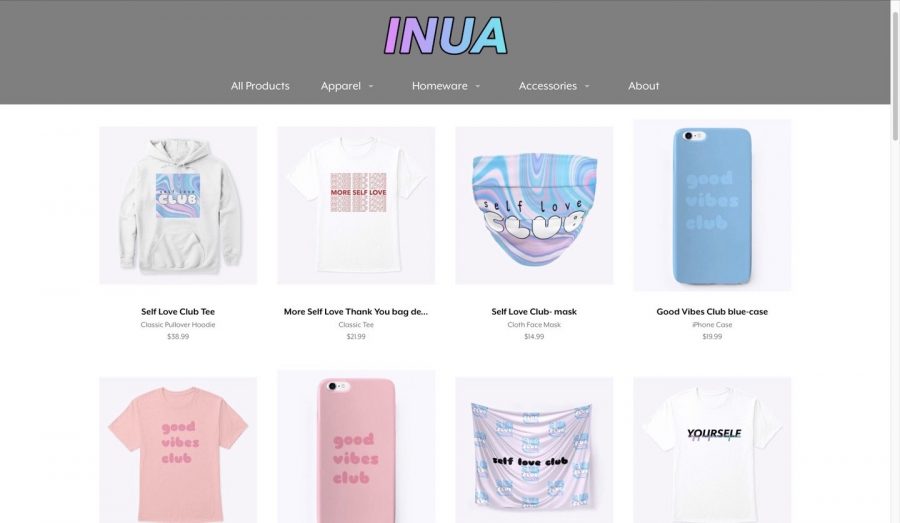 During the summer amidst COVID-19, most teenagers spent their time leisurely, but junior Mackenzie Pitts started her own clothing line called Inua. Pitts' clothing line is accessible through her Instagram @inuaclothing. It consists of t-shirts, hoodies and masks. 
Pitts' passion for the arts inspired her brand. 
"The initial idea of my clothing brand started in May, and I was inspired by my love for fashion and design. I've always wanted to have my own clothing brand," Pitts said. "In middle school, I developed a love for fashion through costume designing when I first joined theatre."
To start her clothing line, Pitts went through a very detailed process. She researched various positivity quotes which provided her with inspiration for her designs. Once inspired, Pitts drew original designs which she sent to her partnership manufacturing company who helped her vision come to life.
Pitts hopes her brand will promote the importance of self-love and positivity.
"Inua is Swahili for 'lift' which fits perfectly with the brand's message of loving yourself and lifting others," Pitts said. "My brand was created to give people a sense of individuality and allow them to stand out, look good and feel fearless in my clothing."
Pitts's clothing line is already widely appreciated by her friends and classmates. Tatum Fink, a classmate of Pitts, had very positive things to say about Inua.
"Buying from Mackenzie was a good experience. There were a variety of choices with cute and simple designs. I really love the design and quality of the hoodies," Fink said. "Fabric was soft and breathable, and the shipping was also incredibly fast."
Junior Nala Nathan also had very positive things to say about her Inua buying experience.
"Shopping at Inua was an overall great experience. The material of the clothing was very soft, and I loved the designs of the clothing," Nathan said. "My personal favorite item would have to be the masks because they are super breathable and stylish and so useful during this current pandemic"
Pitts has high aspirations for the future of her clothing brand. She wants to continue to promote positive emotions through her articles of clothing. Pitts' clothing line is available for international shipment via her website which launched Aug. 27.
"I plan on growing my social media platform to continue to spread the message of self love and empowerment through my clothing," said Pitts. "I think it is important especially in trying times like these that we make it a priority to push the message of unity and love in our everyday practices."
About the Writer
Madison Flowers, Staff Writer
Madison Flowers is a junior from Grenada, Mississippi. She would like to major in chemistry to become a pediatric dentist. Past times include watching...