'Down in the Weeds…' with the rest of the boring albums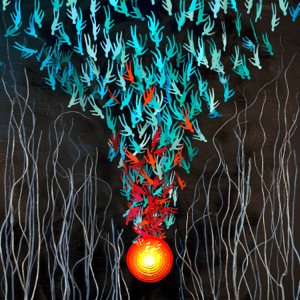 After nine years of radio silence, singer-songwriter Conor Oberst's colorful indie folk band Bright Eyes has released a new album, "Down in the Weeds, Where the World Once Was," a limited but enjoyable exploration of beauty and loss that doesn't take itself too seriously.
Since the release of 2011's "The People's Key," the once prolific group from Omaha had fallen out of the scene as Oberst was busy forming an indie rock supergroup with Phoebe Bridgers and dealing with the loss of his brother. Now, however, the band is back with a more mature, though much less energetic and engaging, take on the brooding acoustic music of its 2000s releases.
Much like 2005's "I'm Wide Awake, It's Morning" (an album I dearly love), "Down in the Weeds" opens with an ominous spoken passage ("Let's warmly welcome Your Most Vivid Nightmares to the stage!") in "Pageturners Rag," an experimental and unsettling exploration of existential dread reminiscent of T.S. Eliot's Boston poems backed by a quirky ragtime piano piece. The song transitions well into the comparatively upbeat "Dance and Sing," in which Oberst channels his signature sobbing-shaking vocal style into a moving ballad for life after loss, offering the beautiful line, "All I can do is just dance on through."
However, after such a strong introduction, the album begins to fall off. "Just Once in the World" mourns lost love with viscerally-felt lyrics, but the instrumentation doesn't quite live up to them. "Mariana Trench" comes next, a sweet song with a nice groove that doesn't really go anywhere. Then, as "One and Done" starts up, my attention falters, and I start to scroll through Instagram absentmindedly only to realize four or five songs later that the music is still playing.
Maybe part of the blame for this lies with our ever-shrinking spans of attention, or maybe I'm too spread and stressed right now really to give this album my focus, but I think it has more to do with the fact that "Down in the Weeds" just isn't really that interesting. Sure, it has a handful of wonderful songs: in addition to the first two, the later track "Persona Non Grata" burns in contemptful ambiguity—that feeling of intensely not knowing how you feel—and "Comet Song" serves as a beautiful, expansive album closer. But most of Bright Eyes' offerings here are, though not bad, very easily forgettable.
I wanted to love this album so badly. After spending so much time immersing myself in the soft incandescence of older Bright Eyes songs like "Lua" and "Train Under Water," I expected "Down in the Weeds, Where the World Once Was" to be this summer's second "Punisher," but it didn't quite make it. So, instead of loving it, I will like it, incomplete but still beautiful and true, with the hope that the best is yet to come for this band so close to my heart.