Opinion: The Age of Streaming—Entertainment in the Pandemic
Picture this: you're shoulder to shoulder with your best friend, losing your voice sing-yelling to your favorite musician, live and in concert. For some this might look like the pit of a Billie Eilish concert, for others it might look like The Killers performing at Beale Street Music Festival. Either way, it's one of the most memorable nights of your life. You spam your Snapchat with videos and wear the shirt you bought from the merch stand to school the next day.
Remember those days?
Now, the closest thing to live music we're getting is live streams. There isn't an aspect of society COVID-19 hasn't hit, and we're especially seeing that with the entertainment industry. We know 2020 as the year of cancellations and postponements. Disappointment after disappointment snowballed since that one week in March when this entire mess started. However, the entertainment industry is making adjustments and innovatively adapting to the present situation. 
The pandemic hit the entertainment industry like a ton of bricks, especially as theatres and concert venues closed down. Movie releases and film productions came to a screeching halt, resulting in billions of dollars in global box office loss. And there were some big plans, from "Wonder Woman 1984" pushed from June to October to the delayed release of "A Quiet Place Part II."
The film industry has always relied on the collaborative efforts of large groups of crew members, actors and actresses, and producers to make movies and get them into theaters. However, due to safety concerns brought about by COVID-19, film productions have been halted, movie theaters have been closed, and seven billion U.S. Dollars in global box office revenue had been lost by mid-march. Film lovers like us have felt this loss just as much as those within the industry. With most of the movies we have been looking forward to pushed back, it's felt like years since we've been to the cinema. 
Yet in these dark times for film, there is hope: streaming services. From the release of Spike Lee's "Da 5 Bloods" back in June, to the upcoming releases of "The Devil All the Time" and "I'm Thinking of Ending Things," Netflix has been leading the charge in original content. While some have scoffed at the idea of streaming platforms acting as production studios not too long ago, it has now become a necessity in a time where theatrical release is not an option. And if it means new films from directors we love, we're all for it.
Some films have even abandoned their original plans for theatrical release all together and opted instead to become available for rent early on platforms such as Amazon Prime, with A24's "First Cow" and Pixar's "Onward" being prime examples. While COVID-19 may have stagnated the production and release of new films over the past few months, people like us who share our passion for film have been lucky to live in a time where movies can easily be streamed from the safety and comfort of our home.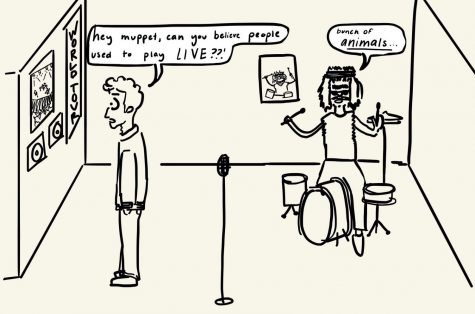 Much like the movie industry, the music industry has suffered a devastating blow.  When COVID-19 began to sweep the nation, millions of heartbroken fans around the world watched in helpless horror as a concert or festival they had anticipated for months was postponed and inevitably canceled. Musicians faced millions of dollars of loss with the cancelation of live performances and large scale tours. Smaller venues struggled to stay afloat in a time where they are forced to remain closed. Platforms, such as these, advocate for the "Save Our Stages Act," a bill that will lighten the financial burden weighing on their shoulders. We believe this bill presents a great hope to preserve these wonderful places, so we have a chance to return once it is safe to gather again.  While these places may be more unknown, they are, nonetheless, important.  
With live stages closed, many artists' incomes now rely on the payout they receive from streaming services. However, for services like Spotify, this payout is less than minimum wage for streaming numbers up to 100,000. This led many of them to begin seeking out more artist friendly streaming services. In a live concert, it is near impossible to properly social distance.  With so many points of contact and the high risk of spreading COVID-19, resuming the "normal" concert experience is very far down the road. 
Then enter live streams. Many artists have opted to hold live stream concerts throughout quarantine to give their fans live performances. In places such as Denmark, they have been holding drive-in concerts to begin establishing a new "normal." Artists haven't just been sitting around gaining that quarantine "15" all this time. For many, even though this has been a difficult time financially, this has been a time of free flowing creativity. We can see what inspiration self-isolation can give  you in music such as Taylor Swift's new album "Folklore." Is this a renaissance giving life to the music industry, or the farewell tour of what used to be? Only time will tell. 
For us, the in concert experience will be missed. Sitting by myself viewing a livestream just isn't the same as dancing with friends in a stadium when our favorite song begins to play.  The touch of magic that you feel as the band jumps into their show gets lost somewhere when watching via Instagram Live.  While it is a wonderful temporary solution, the real deal of a live performance could never be replaced.  It makes us deeply sad to think we may not get to feel that magic for a long time. Although, we're excited to see what innovation the industry will come up with to help solve this problem.
While quarantine life has us missing the good ole days, the future of new music seems very bright. Musicians everywhere have been given time to create and write. We are ecstatic to see so many people take such a difficult period of their lives and spin all their anxiety and fear into something beautiful. We know music and movies alike have helped us cope with everything this pandemic has made us feel. Whether on YouTube Music or Netflix, many have been able to deal with their emotions through cinema or song. These have been such a helpful tool to keep us sane in during quarantine. We're glad to know for many others it has helped as well.