25th anniversary of the best albums of 1995
The year of 1995 blessed the world with many technological wonders and cultural shifts, though they are viewed as prehistoric today. DVDs found their way inside everyone's homes while the nerds of the decade fawned over the new innovative masterpiece, Windows 95. Flannel and jeans were still "in" and skirts and matching plaid coats inspired from the movie "Clueless" passed for attractive looking, somehow. The undisputed greatest basketball player of all time, Michael Jordan, returned from hibernation while infamous football star O.J. Simpson showed the world the glove didn't fit. 
Culture is considered a living being, one that grows and changes with time. The most important factor, however, that influences how we live in culture is music. Decades are defined not by their historical events but instead by their sound. A generation's stories of struggles, accomplishments and devotions are all expressed in the form of music. Ignoring the absolute destructive power this year has had on the world, 2020, like every other year, invites humankind to reminisce on its past intellectual and defining artistic creations in the form of music. Here are the most cultural defining albums from 1995 that turn 25 this year.
Foo Fighters – "Foo Fighters"
A quick Google search of the most prominent things to happen in 1994 will reveal the tragic suicide of Kurt Cobain, the lead singer of the decade defining band Nirvana. Cobain's death brought about an end to the musical era known as grunge, a musical genre for angsty teens. With the main talent of Nirvana's success gone, it was obvious for fellow bandmate Dave Grohl, the guy who hits drums hard, the band had to dissolve. 
Despite the experience of a lifetime behind him, Dave Grohl set out to make his own artistic talent known to the world. Only having seven days to record fifteen songs, Grohl wrote and recorded the entire album by himself as he performed vocals, lead guitar, bass guitar and drums. The majority of the songs were written before Cobain's death. The self titled album contrasted a lot with Grohl's previous band's dark, heavy and erratic sounds of grunge style rock and shifted more to happy and cheery tunes.
The self titled album "Foo Fighters" is still one of the band's best selling albums. "Foo Fighters" was nominated for Best Alternative Music Album at the 1996 Grammy's but was, ironically, beat out by Nirvana's "MTV Unplugged in New York." Now with six core members in all, Foo Fighters, the band, has won 11 total Grammys and has sold over 30 million albums worldwide. Grohl started out in the shadow of a genius, and now he is a household name for two phenomenal bands. 
Radiohead – "The Bends"
The only thing harder than creating a cult classic song is following it up with an entire album. Radiohead's most popular song to date is "Creep," the second track off of their debut album "Pablo Honey." Despite the stardom "Creep" brought them, "Pablo Honey" failed to produce any other best sellers and was overall lacking in depth and creativity. Thom Yorke, lead singer, couldn't allow Radiohead to fall under the title of a one hit wonder band.
Radiohead's record label was hesitant to release "The Bends" because they thought it lacked any obvious hit singles. However, "Fake Plastic Trees" peaked at number 11 on Billboard's Modern Rock Tracks while many singles such as "Just" and "High and Dry" clawed their way to chart success as well. Combining indie rock with post-grunge elements helped define "The Bends" as a required stepping stone in music maturity. Every song featured combines melancholic undertones meshed with uplifting chords that force the listener to cry for the past and look forward to the future. 
"The Bends" gave Yorke and the rest of the band the confidence they needed to continue being a band. While the album itself was critically acclaimed and well received, it could be argued the main reason it's remembered is not for its sound, but for the opportunity it gave Radiohead to mature and produce one of the most influential and unique albums of all time, "OK Computer." Great music should be appreciated, but works of art that precede all time greats should be recognized as something necessary for a masterpiece to be born. 
2Pac – "Me Against The World"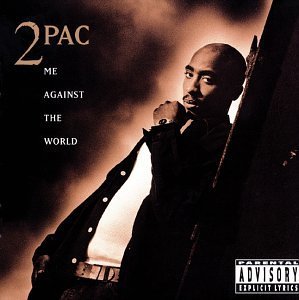 The 90's was a defining time for hip-hop thanks to lyrical geniuses like Tupac Shakur. Hip-hop was gifted with the very personal album "Me Against The World" which dives deep into Tupac's life. Struggles with drug addiction, law enforcement and poverty helped Shakur craft an album that expresses his belief that his work is an art form. 
It's easy to notice the themes of "Me Against The World" just by looking at its greatest hit, "Dear Mama," a song that pays homage to Shakur's mother and the sacrifices she made for her child. The blues has a heavy presence in the album. It presents itself intertwined within the backup vocals, creating a more emotional lyrical sound rather than narrative. The decision to integrate blues into the album allows the world of pain and struggle inside Shakur's psyche to play on the heart strings.
215,000 copies of "Me Against The World" sold in the first week of release and rose to #1 on the US Billboard 200. While many critics debate whether '"All Eyez On Me"' was the more influential of Shakur's albums, both are considered the greatest hip-hop albums of all time. "Me Against The World" is remembered as one of most thematically relevant and personally deep opuses of R&B and Hip-Hop. 
Remembering the works of art before is important to understand today's music. For every genre of music there is one specific band that helped define what it has become today. While everyone is entitled to their own tastes, to say today's mainstream music is terrible is calling out the same influential albums that inspired those artists to create.