MSMS kicks off the school year at home
Monday, Aug. 10, was no ordinary first day of school. As MSMS transitioned to a totally online format for its first nine weeks, there was no migration to Nissan auditorium for Opening Convocation nor the daunting task of trying to find your way around Hooper. Instead, Juniors and seniors alike enjoyed listening to the speakers and meeting their teachers for the first time in the comfort of their own homes.
Senior Class President Madison Meeks, while upset at how senior year is shaping out, is hopeful of the outcome and all that may happen this year. 
"I thought Opening Convocation and the First Day went extremely well. Administration continues to devise and create new ways to provide us with the 'normal' MSMS experiences," Meeks said.
The day started at 8:30 a.m. with Opening Convocation, an MSMS tradition that always kicks off the beginning of the year. Instead of filing into the seats of Nissan, students filled into the Zoom webinar. Senior Class President Madison Meeks gave the introductory welcome, and Historian Clare Seo introduced the MSMS Alma Mater, which was sung by the Blue Notes, the school's choir.
Among those present for Opening Convocation besides MSMS faculty or students, Representative Kabir Karriem of the Mississippi Legislature, Mayor of Columbus Robert Smith, the Mississippi University for Women President Nora Miller, Head of the MSMS Advisory Board Dr. Cedrick Ellis and head of the MSMS Foundation Board John Davis was also greeted and welcomed students into the new school year. 
MSMS alumnus Dr. Adrian Cartier was the guest speaker for the 2020 Opening convocation. Dr. Cartier is nationally recognized as a leader in data science and has over ten years of experience in the field, including serving as the Director of Data Science and Engineering at Bayer Corp Science. In his address, he emphasized the importance of adapting to your surroundings, as this year will be all about change and how students can do our best to adapt.
"Dr. Cartier's personal recount of his time at MSMS really shed light to the excellence and impact that the school has on one's life – and I hope the juniors open up to be able to experience the same impact," Meeks remarked.
Dr. Cartier's speech was followed up by a short video presentation by this year's Emissaries, and after that, the 2020-2021 school year at MSMS officially began Instead of trekking back to Hooper or Shack to try to find their classes, students were fortunate to only have to navigate their Canvas page to find where they would meet their teachers. 
Junior Reagan Ishee of Everett was very optimistic about her very first day at MSMS and can't wait to learn. 
"I'm really excited to just learn new information in general and get to know people as well as I can while being virtual. Naturally, I'm most excited to hopefully be on campus in October, but I'm still just really excited to be here" Reagan said.
Emissary Gracie Rowland was positive about the first day and remarked about how well the faculty and administration have done to make the transition to online so seamless. 
"I felt as if the first day of classes went incredibly well, and I appreciate how hard our teachers and administration worked to make the transition to online as seamless as possible," Rowland said
Madison Meeks expressed her satisfaction with the first day and how it played out, as well as her hopes for the whole student body.
"I think that everyone began their first day with the right perspectives and paradigms based on positivity and growth, so I am ecstatic to go about this journey with some of the brightest people in the state," Meeks said. "I am looking forward to witnessing the juniors' growth as they figure out their journey, and I am particularly curious to see how well the seniors will adapt to this new life – especially since we had such big plans for senior year."
About the Writer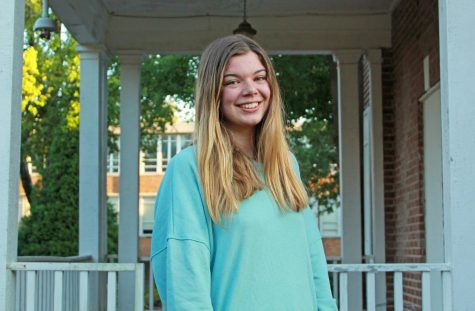 Elisabeth Seage, Multimedia Editor
Elisabeth Seage is a senior from Jackson, Mississippi. Currently serving as the first Multimedia editor, she hopes to expand the Vision into the field...