The MSMS Quarantine Survival Playlist–an exploration of the songs that keep us sane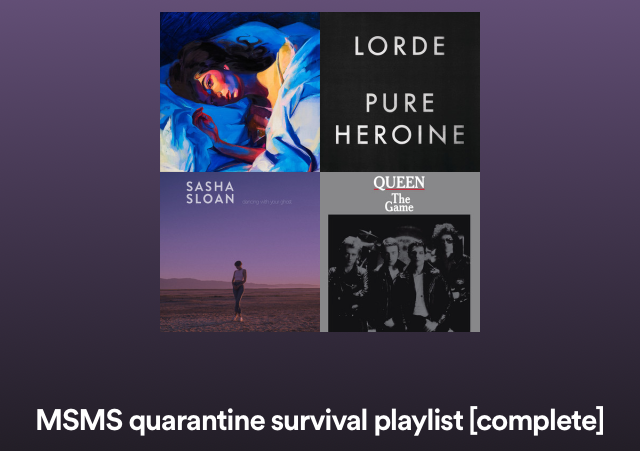 MSMS students are a very diverse group, and I feel like we all know we're a little eccentric. Since quarantine has been giving me so much time to think, I've been letting all of the feelings sink in slowly, reminiscing back to the many ways MSMS have changed me and how many memories we've all made together. And I've realized that the one thing I'm missing so much right now–when we're scattered all over Mississippi–is all of the creative, smart people I've come to love so much. I know that's a very cliché thing to say, but it feels right so I'm embracing the banality of it. We are all so incredible, and when I'm feeling some form of clarity in what Mr. Yarborough has rather aptly called these "crummy times," I let myself realize how much of a miracle it is that all of us could've been in the same place at the same time just for a second. I mean hey, the universe is amazing that way.
But most of the time I can't seem to keep a firm hold on that fleeting optimism and I just keep missing everyone, and in those times music has been an amazing shelter. I know it's the same for a lot of others too, so I thought compiling a playlist of songs that've been keeping MSMS students going through quarantine would be a good way to bring all of us back together. And to be honest, I thought that combining the chosen music of such a beautifully complex group of people would be pretty interesting.
I certainly wasn't disappointed. From the entire soundtrack of "High School Musical" to songs from Dua Lipa's fire new album, as well as some random indie lofi rap gems, the MSMS student community really exposed themselves for the genre-hopping fiends they really are (as well as for having more than a few Lorde addicts).
While most of the selections made sense to me, some of the songs (submitted via response to my email questionnaire) were not what I expected from the people who sent them.
Whenever I'm trying to get to know someone, one of the things that really fleshes out who they are to me is what music they like. Music is a defining feature in who we are as people; what someone listens to can be reflective of their background and culture, and shapes a lot of our individuality. (Personally, I know that a lot of my own music taste is heavily influenced by my mom, although she may not completely want to claim that especially after my K-pop epiphany).
There's a whole other power to music, though, beyond showing what we like to dance or vibe to when we're happy. It doesn't just help us define our identities. It's also a fluid and dynamic soundtrack to our lives, and usually the harsher times are the most telling about how that soundtrack flows. In other words, the songs you listen to when you're sad are some of the ones that are the most interesting in the context of understanding your own identity and what makes you tick.
And the songs that make you happy or get you motivated to submit those Canvas assignments on the days you don't even want to get out of bed, are definitely the ones worth sharing.
So, with quarantine giving us so much anxiety in our lives, I think it's important to connect again after so long being apart…this time through music. Get ready to delve into the MSMS Quarantine Survival Playlist compiled by yours truly and consisting of all of the bops that MSMS students are listening to!
Here we go: MSMS Quarantine Survival Playlist [clean]
However nifty playlists are, huge platforms like Spotify sometimes leave off the gems, so here're the few songs that didn't make it in because they are by primarily not-on-Spotify/Youtube-based artists:
-"For You," a song by artist Rie Fu, is an upbeat, kind of sappy song with lyrics oscillating between Japanese and English. It's a fun song to help you feel a little lighter when quarantine is bogging you down. This one was recommended by one of my quirkier juniors, who you can probably catch writing weird things in kanji on the whiteboards in Hooper Lobby after all this is over.
-"I Choose You" is a song by a very young Youtube-based playwright, Abigail Greenwood, who writes songs for her own musicals. Like any song designed for a musical, it's very emotional and dynamically pretty. It reminds me of our own musical the Blue Notes band and choir were planning, which was ruined/postponed by Covid-19. The person who submitted this song was also close to this issue, but hope isn't lost because the musical will go on next year, led by all of the wonderful juniors-turned-seniors who I trust will make it the best it can be.
-"Nausicaa" is a lofi remix of the soundtrack of the Ghibli film of the same name by Joe Hisaishi, remixed by Prod.Katakuri. This one immediately got stuck in my head, and it's an interesting trillwave remix with a nostalgic feel.
While I usually have nothing against songs with explicit lyrics (honestly I think explicit songs need to be acknowledged as being on the same level artistic-wise as any other music, sometimes even more so because of the ways some artists can weave swearing, alchemy-like, into beautifully poetic lyrics) I understand that some people are more sensitive to different explicit elements in songs so I had to split the original playlist. Since I already shared the link to the clean version, I compiled an alternate playlist with the other songs that had a more spicy side. Click on the link only if you dare: MSMS Quarantine Survival Playlist [Explicit]
There are a lot of good songs in this playlist, and most aren't very explicit honestly. I especially enjoyed "1950" by King Princess, and an old favorite by Tame Impala, "The Less I know The Better," which I'm sure I've heard on the radio way too many times. The more I listened to this playlist, the more I could feel that specific brand of visceral aggressive energy that gets MSMS students through all-nighters of MasteringChem and Curtis essays. I also liked "Cold Love" by Rainbow Kitten Surprise, which was a rainbow kitten surprise (it really wasn't, I just liked how bad that joke was. The song was right up my alley and it has a very calming feeling to it).
And finally, (not picking any favorites) but here are a few favorites from the combined playlists and also some of the ones I personally added:
-"Asleep" by The Smiths, submitted by a certain graceful feminist who was one of the only ones who knew who The Smiths were when Dr. Easterling asked the Film class Zoom. This song, as you can probably guess from the title, has a calming lullaby-like tune with a lot of that lascivious piano that gives you nostalgia for the times when they actually played real musical instruments in songs.
-"I Wanna Get Better," by Bleachers, which honestly has the best "freak-out" moment in any song I've heard. I've been hooked on this song for a while, and when it was submitted I felt like I wasn't alone in my obsession with this rock-y, energizing tune.
-"Stay With Me" by CHANYEOL, submitted by one particular MSMS student I thought only listened to instrumentals (and conducts along with them like he's in front of a huge orchestra). This song is so pure, and excites that love for K-pop I mentioned earlier (the tune is so catchy and beautiful it really stays with me). The composition is amazing and gracefully delicate, and I liked how sparing the English was throughout it.
-And finally, I added three of my own personal favorites that've kept me going through quarantine: "Crazy Bird" by Wild Child (the best song with the weirdest music video in existance), "Hold Me While You Wait" (by that adorable Scottish guy who got famous in a day for his song "Someone You Loved"), and "Late July" by Shakey Graves (for any of you who like musicians from Austin, Texas who can play three instruments at once).
Thank you to everyone who shared their 6 hours+ worth of beautiful music tastes. Here's the complete (clean and explicit combined) playlist: MSMS Quarantine Survival Playlist
About the Contributor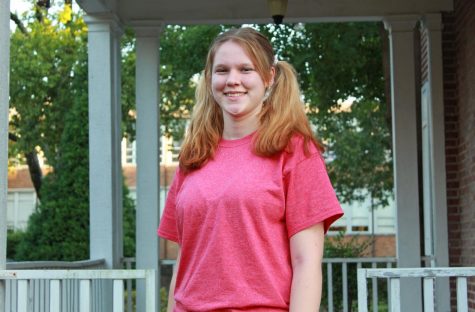 Ada Fulgham, Student Life Editor
Ada Fulgham is the Student Life Editor for The Vision, and is a member of the MSMS class of 2020. Reading, writing, singing, making and listening to music,...