'Emma.': the romantic classic reimagined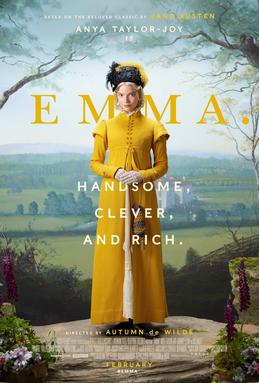 Do you want to get into classic tales, but you don't have the attention span nor the time to sit down and read a whole novel? Are you a big fan of period dramas, but you don't want to rewatch "Downton Abbey" for the fifth time? Starting to go a little stir-crazy and want a chance to escape to a totally different time period? Then look no further, because Autumn de Wilde's new adaption of the classic Jane Austen novel "Emma." is available for streaming today on multiple platforms and will fill all of your romantic, classic woes with its witty humor and gorgeous setting.
I've always been a huge fan of Jane Austen novels ever since I read "Pride and Prejudice" my freshman year, but I could never really finish her novel "Emma." Austen's novels are great and are truly classics, but they're pretty hard to read without context beforehand. The language can also be really confusing. I was greatly intrigued, but I just couldn't get myself to finish. Sadly, I forgot about it and moved on to others. I'm kicking myself right now for not finishing because after watching the 2020 film, "Emma." has one of the most compelling plots probably out of all of Austen's works.
"Emma." is set in the Georgian period of England and follows the precocious titular character (played by Anya Taylor-Joy) in her mischievous matchmaking ventures. She means well throughout the film, but her matchmaking abilities begin to show her selfishness as she meddles in her friends' love lives. After almost ruining all of her friendships after a series of unfortunate matches, Emma finally meets her own perfect match at the end.
While Emma seems like a not-so-fun character to watch, she's absolutely hilarious. Her selfishness makes you cringe, but it adds so many plot points and really keeps the story going. She's a character you love but also love to hate.
Anya Taylor-Joy is a "joy" to watch on screen. She's able to make the film lively with her portrayal of the wealthy Emma and make the audience fall in love with her, but I can also be annoyed with her at the same time, which is an incredible feat. Without her, the film would not be the same as she brings a new found energy to what has usually been known as a "stuffy" or boring tale.
Emma always worked to find others perfect endings but never focused on her own. At the end, we realize the important theme displayed through the perfect match of Emma and–well, you should watch for yourself: find your own equal and make your own happy ending, not someone else's. Don't base your happiness on someone else's. That's your own adventure to explore.
"Emma." is an absolutely gorgeous movie, and I would recommend it to anyone itching for an escape from their quarantine, even if it's just for a few hours. It's quite different from other period dramas, but in the best way possible. It's energetic, vibrant and downright hilarious at some points. It's funny, rich in history and has maybe the best costumes out of any historical fiction film. I'm a huge fan of Greta Gerwig's 2019 adaption of "Little Women," and this felt very similar in style and flair.
Now you don't even have to leave your home to see this gorgeous film! "Emma." can be rented from Amazon Prime and Itunes stores for $19.99. Yeah, it's pretty expensive, but think about how much you would be spending if you went to see it in the theaters. Once you finish your online coursework, grab a cup of tea, find somewhere nice to relax and let this movie take you away from all of your quarantine troubles.