A hidden treasure: Up Down Eatery and Coffeehouse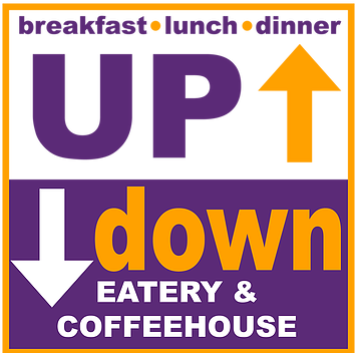 Xavier Lucas-Cooper, Staff Writer
March 5, 2020
My interest was piqued on a sunny afternoon when Ms. LaToya emailed the entire school about the new restaurant, Up Down Eatery, and Coffeehouse. I decided to investigate her first-rate review as a starving MSMS student. 
Walking into a relatively new establishment, I was welcomed with soft ambient lighting. Seating was abundant with various views of the outside world through the restaurant's large, square windows. The scents of mocha and smoothies wafted towards my nose. My eyes were immediately drawn to the rather odd paintings of vibrant farm animals that were hanging on the walls, but the array of seemingly fresh pastries on the counter were more alluring. The restaurant had succeeded in making a strong first impression on my senses, so I was excited to see how the rest of my experience would turn out. 
My high expectations for the restaurant were impeded by the cashier's unenthusiastic and aloof attitude while taking my order. Speaking of my order, UpDown's menu offers a multitude of different dishes, ranging from coffeehouse favorites to burgers, salads, paninis and quesadillas. I selected the BBQ Bacon Burger, a burger equipped with "applewood bacon, pickles, cheddar cheese with a sweet & bold bbq sauce". I chose it because it was a step outside my comfort zone, and I wanted to make my thoughts on the burger unbiased. After I took my order, I went to sit down in one of the bar stools in the middle of the restaurant so I could have a 360-degree view of everything. As I waited, I noticed that there was a lack of music playing in the restaurant. This caused a long-lasting awkwardness as I waited for my food to be cooked. Unfortunately, my food did not come out until about 25 minutes after I ordered. On the other hand, loitering for my meal worked up a larger hunger. 
As my plate was placed in front of me, I was shocked, to say the least. I would have never guessed that my food would look like it came out of a magazine. Everything looked like it was cooked to perfection (I would assume so considering it took 25 minutes to make).  I took my first bite and was pleased to taste that what I wanted was all in the burger. The savory of the burger beautifully complemented the sweetness of the barbecue sauce. The acidity of the pickles really allowed the bun to serve its purpose as a flavor sponge. My side of fries was the perfect amount of crispy and salty, so much so that I almost bought another order.
Finishing my food felt strangely melancholic. I soon realized that I had never had a meal so satisfying as that one. I came to understand why my food was priced at $12.38. I could taste the effort behind the food that I ate and it paid off in the taste. 
On a scale from 1-10, I would give Up Down an 8/10 on behalf of the food being phenomenal, but taking off points due to the lengthy wait and hefty price.