Inaugural track and field team surprises at Starkville
Founded just last month, MSMS's track and field team traveled to Starkville this past Tuesday to compete in the Starkville High School Season Opener. Despite having never practiced on a track, the team placed in several events.
Junior Camille Newman was the girls' top finisher by placing 2nd in discus and 3rd in shot put.
Additionally, junior Bryce Harrison took the lead by placing 1st in both the 1600m and 3200m runs. Harrison, along with juniors Tejus Kotikalapudi, Luke Bowles and Chandler Bryant, placed 1st in the 4x800m relay. Kotikalapudi, Bowles, Bryant and Neil Sanipara ran for 3rd in the 4x400m relay.
The following is the full list of students who placed: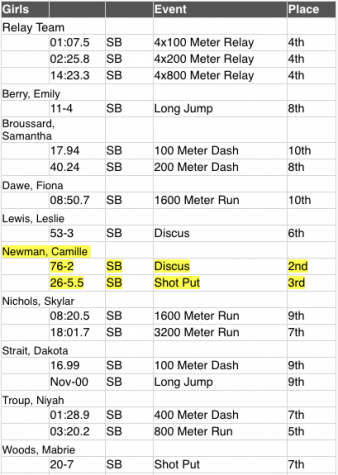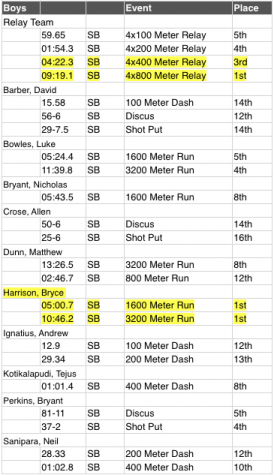 Co-captains Bowles and Harrison felt the team did well but has lots of room for improvement.
"I thought we did amazing for our first meet. For not having run on a track all season, I was genuinely impressed by our team. We definitely need to get better at handoffs for our relay events because a bad handoff can really hurt a relay team," Bowles said. "My biggest takeaway is that we absolutely have the potential to be a high-caliber team despite our poor circumstances in regards to facilities."
"Our team did well. We competed against much larger schools and come out in the middle of the pack. We didn't expect to do that well," Harrison said. "We hope to be able to actually use and train on a track. The meet was the first time we've been on a track and we suffered because of it."
As the team looks to their next meet and continues to train, they hope to get their hands on "real" track and field equipment.
"When we went to the meet, we hadn't even set foot on a track, so there are some techniques that are associated such as using starting blocks and pacing," Head Coach Brian Burnes said. "We haven't been able to practice at all for the long jump or triple jump because you need that running space for it."
Burnes, as well as LeAnn Alexander (MSMS Director of Student Affairs), is currently in communication with Columbus High School's track and field coach and administrators with hopes of sharing their facilities.
The team's next meet will also be at Starkville on March 1.