Students explore their ideals in the first MSMS Ideals Day
As many MSMS students were getting ready for the Traveling Science Carnival, the other half of the MSMS student body were waking to different seminars and work service projects across the county.
Monday was MSMS's first Ideals day. Each student who was not at Science Carnival signed up for seminars that exemplified the four MSMS ideals: Scholarship, Community, Service, and Creativity. The day was divided into three periods, and each student went to the service project, creativity class, and academic lecture of their choice. 
Scholarship classes included such topics such as quantum computing, the development of public policy, and a brief introduction into the science of AI. For this, instructors from MUW and MSU visited the school and shared their viewpoints of their respective fields. 
Next, students chose a creative activity such as painting and sculpting. Alyssa Williams, an MSMS Senior, shared her opinion on the creativity seminars.
"I really enjoyed painting and getting to reaffirm my feeling of creativity in the seminar," Williams said. "I had a lot of fun and really got something out of Ideals Day."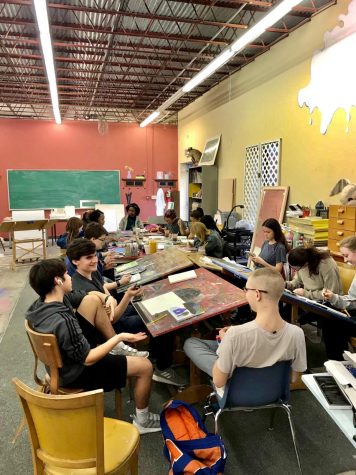 MSMS teacher Julie Heintz was responsible for assigning students to different positions around the city.
"It was a lot of hard work putting together volunteer activities for 109 students, but it was a great success," said Heintz. "We have had many places ask if the students can come back, and I have also heard from the students that they would love to continue to volunteer." 
Organizers of Ideals Day felt that the event was a major success and well-timed. With the majority of the school gone to Jackson with the traveling Science Carnival, Ideals Day provided another way for the students who stayed to connect with the spirit of our school and help become a more ingrained part of the community. 
"What I enjoyed most about Ideals Day was the ability to choose what we participated in," said senior Evan Stegall. "It allowed people to cater to their own interests, and made the experience much more enjoyable."
Based on the results of the first MSMS Ideals Day, it appears to its organizers to have the potential to become an annual event.