Dramatic performance students return to the stage with 'The Patient'
Dr. Thomas Easterling's dramatic performance students took to the stage once again Wednesday, Dec. 11, performing a play based on a rendition of Agatha Christie's novel "The Patient." This thrilling mystery was both entertaining and exhilarating to watch from beginning to end, and it featured the raw talent of the students as they dawned their midcentury attire and wrestled to settle the mystery at the heart of the play.
Christie's play is a "Whodunnit?"-style play in which a detective, played by senior Davan Reece, interrogates the friends and family of Jenny Wingfield played by senior Samantha Holland, a woman whose near-death fall from a second-floor window has left her paralyzed and comatose. 
After a dramatic, yet humorous, interrogation of the suspects, it was revealed that the attempted murderer was not a family member, but Jenny Wingfield's nurse. Although the motives of Nurse Bond, played by senior Taylor Willis, were unknown, there are hints at a possible affair between the nurse and Jenny's husband, played by senior Garrett Wells. The play ended with a powerful twist and a shocking ending, leaving half the audience appalled and the other half saying, "I told you so."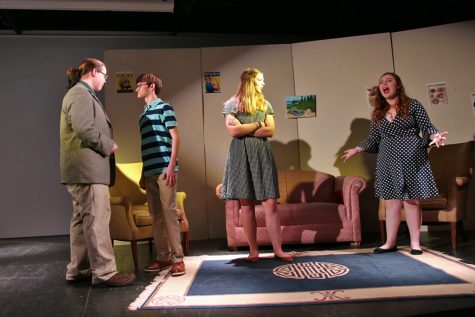 Emily Berry, a junior and a spectator at the play, felt that the play was successful, and she enjoyed getting the opportunity to watch everyone in such a fun setting.
"I loved watching my friends perform and finding out who did it along the way," Berry said. "Overall it was a great play and very well done."
Reece was pleased with the outcome of the play and expressed gratitude for the effort of his classmates.
"I am so incredibly elated with how 'The Patient' turned out," Reece said. "It was an absolute joy to work with everyone, and I couldn't be more excited with the result. Working with these talented people and Dr. Easterling this semester has been nothing short of awesome."
Reggie Zheng, a senior who also acted in the play, enjoyed performing alongside his peers, and he is grateful for the teamwork that the dramatic performance students demonstrated.
"Even though it wasn't exactly the best play ever written, we worked really hard on it, and I think that's the most important thing," Zheng said. "We all worked together, and I'm really happy with the result."
"The Patient" was the last performance of the semester, but more plays (and auditions) are to come in 2020.