Waves fall short against New Hope Trojans
Facing off for the second time this season, the Blue and Lady Waves hosted the New Hope High School Trojans on Tuesday, Nov. 12, for their unofficial rematch after competing against each other in the New Hope Classic. Playing through the bitter cold, with temperatures falling to the lower twenties, the Waves played hard but fell short of victory.
For the Lady Waves, the game started off on an unfortunate note after the goalie, junior Camille Newman, had to be taken out of the game due to injury. Junior Emily Berry moved into the goal from midfield, where she played the rest of the game.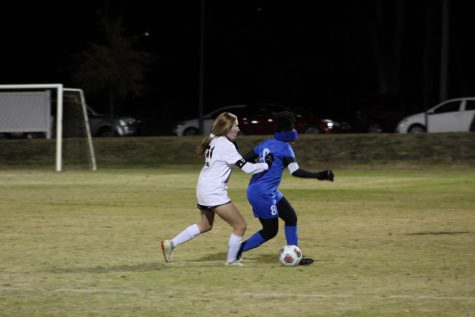 "It was not the best way to start a game," co-captain Taylor Willis said. "We had to switch around players [to fill the spot], and it was hard for the team to adjust immediately." 
Things did not get much better for the Lady Waves as they attempted to readjust to the new setup. The New Hope girls team was quick to take advantage of the situation, scoring three goals in the first half. As the temperature slowly dropped so did team morale.
"It was just too cold," Willis said. "As the game went on, everybody just lost their enthusiasm." 
The second half went as well as the first, with New Hope scoring three more times, putting the final score at 6-0.
Soon after that game finished, it was the Blue Waves' turn to play on the frozen tundra. Though without major injury, the game did not go much better for the boys. The Trojans, with much more experience playing together, were able to beat the Blue Waves, who are still building chemistry and settling into positions. Despite a stellar performance from the Waves' goalie, junior and Co-Captain Nathan Lechner, in which he had 11 saves, the boys team fell by a score of 7-0.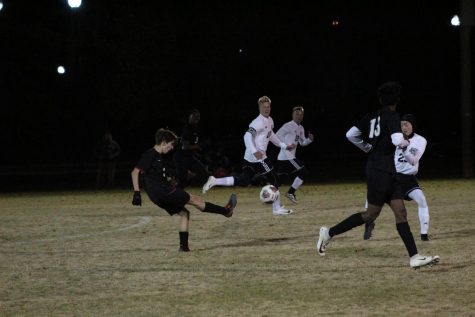 "We played well," Co-Captain Dylan Johnson said. "Nathan played an incredible game but they just had possession for nearly the whole game. [New Hope] was extremely good and there's not much more I could have asked from [the Blue Waves players]."
Though the Waves did not come out on top, the contest against the much larger New Hope High School is an experience both teams will learn from moving forward as they prepare to face a district opponent, St. Andrew's, in Columbus on Friday, Nov. 15.