Blue Notes travel across Gulf Coast in Sites and Sounds
This past weekend, MSMS's beloved Blue Notes traveled across the Mississippi Gulf Coast and down to New Orleans for their much-anticipated annual Sites and Sounds tour.
Sites and Sounds is a music tour showcasing MSMS's band and choir, directed by Performing Arts teacher Ms. Dawn Barham, that takes place during the fall. The concert switches locations every year between the northern and southern regions of Mississippi. Last year the performances were across the Delta and Memphis area, but this year, performers visited D'Iberville and Biloxi for performances.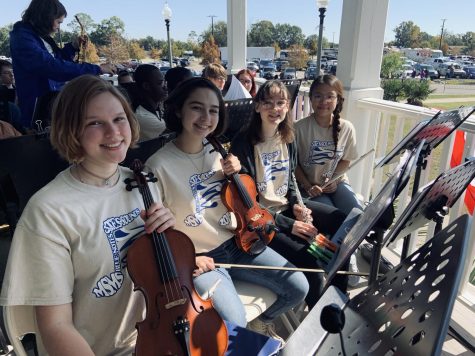 The Blue Notes played a variety of genres, such as blues, jazz and country, but the songs were all tied together by their connection to Mississippi. It's no secret that Mississippi has a significant cultural impact on music as we know it, as even the welcome sign when you first arrive in the Magnolia State has "Birthplace of American Music" on it.
The Blue Notes' mission in their Sites and Sounds tour is to educate Mississippians on their own rich musical history.
"Through Sites and Sounds, Ms. Barham is trying to teach us about how all music originates in Mississippi," said senior and choir member Samantha Broussard. This is Broussard's second year as a Blue Note, and she's thankful to be actively learning about Mississippi's culture through music. She was also excited to be back home for the performances, as Broussard is one of MSMS's beloved "coasties."
The Blue Note choir sang soulful Dixie renditions of popular Mississippi-based songs, as well as medleys such as "Fly Away Medley" and "Swingin' with the Saints." Other songs include solos by Ada Fulgham ("Go Like Elijah"), Mabrie Woods ("Blue") and Cecile Roberts ("Feelin' Good").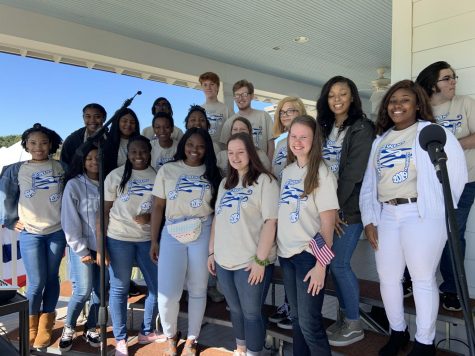 The Blue Notes practiced consistently for hours in the weeks leading up to make these performances the best that they could be. Their hard work definitely paid off as they received stellar reviews from many audience members.
"I really enjoyed the concert. To me, the Sites and Sounds concert was like the sound of Mississippi, as all of the songs seemed to have Southern roots," said junior David Gipson, who attended the concert in D'Iberville. "The singers were all phenomenal, and the band was great. My favorite soloist was Ada because her vocals were poppin'. I really hope I get to attend next year."
"What made Sites and Sounds worth it was seeing people enjoy watching us," junior choir member Madison Meeks said. "All of our hard work and Monday practices actually paid off."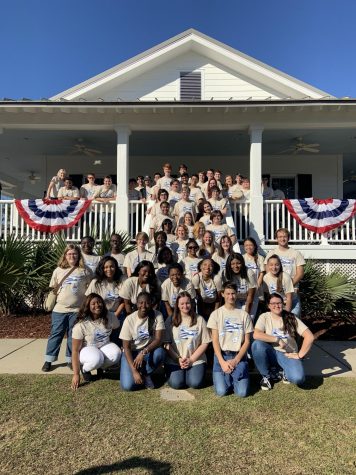 Junior Zach Medlin, who was a part of the band and the choir, says the concert was a fun but hectic experience.
"It was very hard during the set. I found myself running back and forth the entire time. It was a lot just trying to work out the logistics of where I'm going to be. However, it was an incredible experience," he said.
Medlin was also a soloist, performing Howlin' Wolf's iconic song "Spoonful."
Not only did the members enjoy performing, but they also enjoyed touring the many sites of the Gulf Coast and New Orleans. They visited many popular tourist attractions, such as Cafe Du Monde and the Steamboat Natchez. Additionally, they also enjoyed the company they had with each other and the beautiful sights of the coast.
"I've never been to Mississippi's beaches before, and it was very nice being there, especially with my friends," Medlin said.
Feeling blue that you missed out on all the soulful music? The Blue Notes have another performance at St. Paul's Episcopal Church in Columbus on Sunday, November 17th at 10:30, where they will be performing the same songs presented in Sites and Sounds.