Waves enter season with high hopes after New Hope Soccer Classic
The MSMS Blue Waves and Lady Waves kicked off this year's soccer season Saturday, Nov. 2, by facing off with New Hope and Columbus High at the New Hope Soccer Classic  in a few pre-season matches. These matches were half the length of regular-season matches, at 40 minutes rather than 80. 
Columbus
Against Columbus High, the boys won 2-1, while the girls tied at 1 apiece.
For the girls, junior Amanda Anderson scored her first goal in the second half while down 1-0. According to girls' coach Chuck Yarborough, the score is not quite reflective of how the match unfolded. 
"We made plenty of shots on goal. We controlled that match. It's just we only got one in the back of the net," he said. 
Meanwhile, the boys showed great deal of team character by winning in comeback fashion with two unanswered goals in the second half.
Players were excited to start the season with their new teammates, but each year, the first few matches include the extra challenge of developing dynamic between the new squad of players. For boys coach Tim Wood, the goal of these games was to learn and grow together and find that chemistry. 
"I thought that every single player got a little bit better, and that was the goal, and I thought each player took a step forward in the way that we're trying to play," Wood said. "Obviously we were really happy with the result as well, and I loved seeing how excited we were for each other, as being a brotherhood and a family is a big part of who we want to be this season, no matter what happens."
Junior Cameron Wright also looked at the results with hope for the team's future.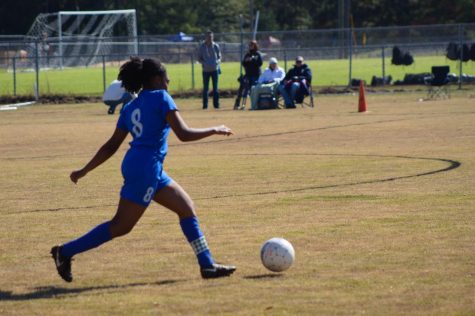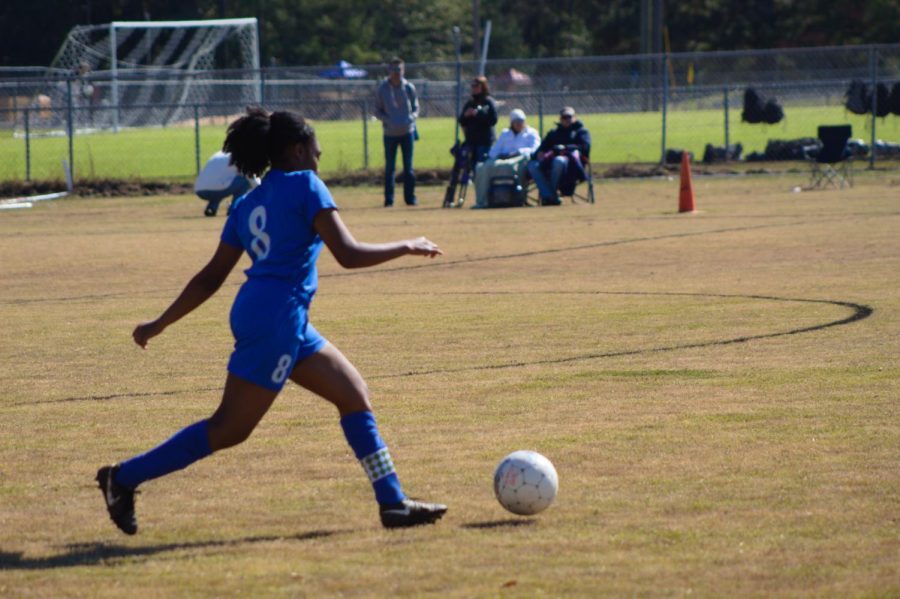 "I think we did a good job for our first few games, and it's looking like a promising start for the rest of the season," Wright said. "It's especially good that as a 2A school and only knowing each other for about 12 weeks, we're playing 5A schools who've been together and known each other for many years and we're competing this well."
Coach Yarborough was thoroughly enthusiastic about the ladies' performance. 
"I was very pleased with the way the girls team responded to falling behind Columbus and was very pleased with the chemistry that began to develop as the matches progressed, especially for our first match of the season," Yarborough said. "Our girls have developed a lot to get to that point, both as individual players and as a team."
New Hope
Later in the evening, New Hope defeated the Waves 4-0, and the Lady Waves performed similarly, losing 2-0.
"In terms of the New Hope game, again, I thought it was just a great learning experience, being in a tough game playing against a lot of really good players," Coach Wood said. "So even though we weren't happy with the result, we got a lot out of the game. It's hard going down in a game, but we didn't give up and we kept working hard because that's the kind of individuals and team we want to be."         
The boys dropped four goals in the first half, but after a half-time pep talk from Coach Wood, the team held firm and did not allow any more goals from New Hope.
"There's a lot of room for improvement, but there's definitely a lot of talent and potential on the team," said Trevor Allen, a junior Team Leader for the boys' team. "The first game was fun, obviously, because we won. The second was more challenging mentally but that's just how it be sometimes."
The Lady Waves also may have lost, but the team still had a strong performance. Camille Newman recorded three saves in this match—her first ever. 
"The match was kind of terrifying at first, but after I figured out what I was supposed to do, it was a blast."
Despite the loss, Lady Waves Captain Tierah Macon was encouraged by her team's development, even between matches. 
"I think the second game was played way better than the first because everyone had a feel for the position they played," the captain said. "I'm hopeful that we will get better, not only individually, but also as a team with each game we play. I'm definitely looking forward to the rest of the season with my teammates."
Likewise, senior Samaria Swims was not too discouraged by the ladies' loss. 
"I feel like even though we didn't win the second game, we worked together as a team and we all grew together," she said.
Overall, both coaches saw the weekend as a vital learning opportunity and a demonstration of the immense potential in both teams. Both coaches look to the future after these opening matches. 
"One of the things I was most happy with was our work ethic in both games," Wood said. "We're still adjusting and learning, but I think the work ethic always has to be there and I think it was there for the large majority of both games. Hopefully we keep taking more steps forward in the next few weeks as well." 
"With that kind of growth mindset, I think both will have success this season," Yarborough said.
MSMS will open its 16-game regular season with a home match against the Louisville Wildcats on Thursday, Nov. 7. Kick-off times are 5:30 p.m. for the girls team and 7:00 p.m. for the boys. The match will be held at the Riverwalk Soccer Complex in Downtown Columbus.