The Vision editors report from the Trump rally
Over 10,000 Mississippians flooded the BancorpSouth Arena for the Trump rally, vying for the chance to see the president last Friday Nov. 1. Five editors from "The Vision" were able to secure a spot in the news and media section–being the only high schoolers there with official passes. Trump held the rally in support of Lt. Governor Tate Reeves, the republican candidate who ran for governor in Mississippi's election on Nov. 6. 
The experience was something not a lot of high school journalists get to have, especially being able to sit with other well-known news outlets. It opened their eyes in different ways and gave them an opportunity to feel like real journalists.
Cameron Thomas, one of the Managing Editors, was happy to have this real journalistic experience.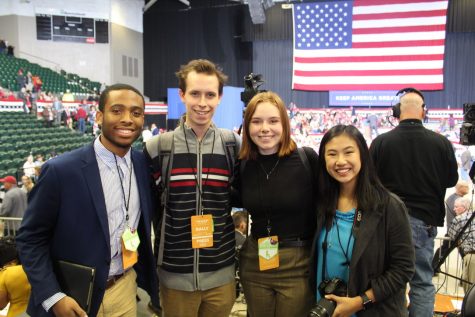 "It was really cool being the only high schoolers there with the rest of the professional journalists. Knowing that this is actually what I want to do in life, I am so glad I got the chance to report alongside the 'big dogs' this early in my journalistic 'career,'" Thomas said.
Alden Wiygul, the Social Media Editor, felt like the event was a surreal moment. 
"I was very aware of the fact that we were kids," Wiygul said. "All the other press had spots to set up their equipment, but we all just ducked into whatever crevice we could find."
Co-Managing Editor Davan Reece would also agree that the event was a great opportunity.
"The experience was definitely nothing short of life-changing," Reece said. "Rubbing elbows with the likes of CNN and Fox News really reminded my of what inspired my passion for journalism and truth-telling."
For Editor-in-Chief Gina Nguyen, this was not her first time attending a rally with "The Vision." As a junior, Nguyen covered President Trump's rally when he was endorsing Senator Cindy Hyde-Smith as the Photography Editor. In comparison to last year, she found it more interesting.
"Last year when [President Trump] came to Mississippi, the national news outlets that had come to cover the event were the Mississippi branches," Nguyen said. "This time, these were people who are based in Washington D.C., which shows how much more important this election was. The reporters there were also more welcoming and tried to make conversation with me."
Sports Editor Boatner Calhoun was excited for the event. While there, he was able to interview some attendees and get their perspective on the rally.
"Listening to the leader of the free world in person was just a whole different experience," Calhoun said. "The whole thing was surreal."
Something all of the editors learned was that even though the event was to promote Tate Reeves, most of the attendees only came to see President Trump. This opened their eyes to how people really are uniformed about what's going on in their own state. 
"Cameron and I spoke to a few people, and it was made clear that even though the rally was meant to bolster Tate Reeves support, a majority of attendees were only there to see Donald Trump," Calhoun said. "They were already voting Reeves in the first place.
Although some editors didn't share the same political views as everyone else in the arena, they knew as journalists, it's their job to set aside these differences.
"I learned about maintaining objectivity regardless of the circumstances," Thomas said. "As a journalist, my job is to make others' voices heard and to do it without any bias. We don't want any 'fake news' around here."
With the presidential primaries coming up in the spring, the editors are hoping to attend more events like this and involve more people. The results of Mississippi's election were posted Tuesday evening, a few hours after voting closed.