Interact Club hosts thrift store for Hurricane Dorian relief
Between buying back the sweater you donated because you realize you just couldn't part with it and trying on the shoes that are guaranteed to be three sizes too small, the Interact Thrift Store brought a sense of charity and kindness to the MSMS students and faculty this past Tuesday and Wednesday afternoon.
The Interact Club hosted a clothing drive as an outlet for students to donate all of their unloved clothes to be sold at the thrift store, which was set up in the W Room in Hogarth. The remaining clothes were donated to Salvation Army, and the proceeds from the store went toward Hurricane Dorian Relief.
Interact Club President Alden Wiygul spoke and the students listened; heaps of clothes were donated, and Interact Club members unboxed and sorted through each item to determine pricing. The clothing items had three price points: $2, $5 and $7.
"The thrift store is one of the ideas we got while we were brainstorming for ideas we could do that would be really easy and fun for us to do," Wiygul said. "It's been really fun. We've sold a lot of clothes…we even had one person just donate for the fun of it, which was really cool."
Interact Club Secretary Gracie Rowland enjoyed both working and shopping at the thrift store on Tuesday. She felt that community service is important and necessary at MSMS.
"I'm so proud of my fellow classmates for banding together to support such a life-changing cause," Rowland said. "It is truly reflective of the prevalence of the ideal of community that is shown at MSMS."
Rowland shared an experience she had while volunteering at the thrift store.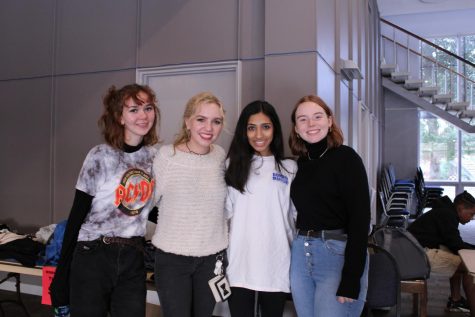 "I had donated a Halloween sweater, and I saw two of my teachers arguing over who was going to buy it," Rowland said. "It was funny to me because I never would've thought that my teachers would want to buy my clothes."
Interact Club Treasurer Boatner Calhoun was happy with the turnout and was glad he had the opportunity to help.
"It was for a good cause, and I had fun helping out and sorting through all the clothes," Calhoun said.
Tiwaniya Tyler, a senior who bought a few items from the Interact Thrift Store, appreciated the club's outreach and enjoyed purchasing from the store.
"The thrift store was an amazing idea," Tyler said. "I commend the Interact Club for coming up with something that benefits Hurricane Dorian relief. Also, I love my sweater that I got."
As a last chance "everything must go" sale, all items were $1 for the final hour of the event. The store closed, leaving students with a surplus of sweaters and a lack of cash.
The Interact Club hopes to continue more outreach projects in the future, including Ted Talks and dress-up days at school.