SEAL cleans up East Bank Lock and Dam
While the world debates about climate crises and pollution, the Student Environmental Awareness League (SEAL) went out and did something about it. Over 20 students spent last Saturday morning, Oct. 12, at East Bank Lock and Dam in Columbus picking up plastic bottles, tires and even propane tanks.
For the last 11 years, the Mississippi Valley U.S. Army Corps of Engineers (USACE) has been hosting annual environmental cleanups in conjunction with National Public Lands Day. Although the national holiday falls in September, the event is pushed back to October in Mississippi with hopes of having cooler weather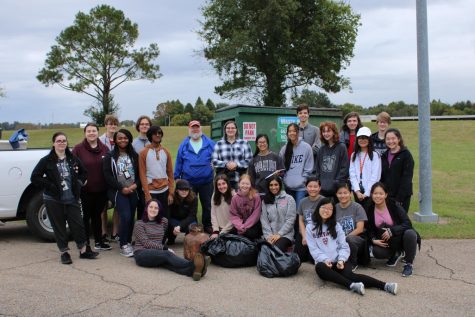 USACE Representative and Park Ranger Phillip Leeser and SEAL advisor Bill Odom agreed that students can learn valuable lessons by getting involved this way.
"It teaches them about community service, giving back, and a big thing about conservation, and keeping their park clean," Leeser said. "It's not my park, it's everyone's park, it's the public's."
"Somebody's gotta do it. It's important for us to set the example," Odom said. "It's important for you to tell your peers about it, to spread the word. And people are trashy, and we're trying to make the world a better place."
The SEAL Co-Presidents hoped going out to clean served as a good opportunity to come together and raise environmental awareness.
"Participating in cleanups like this really shows how bad the plastic pollution really is. It helps the community but it also really brings home how bad littering is," Co-President Cecile Roberts said. "This was about making our community better and giving back."
"[This was] a great way to get to know people and help the environment. It was really fun getting my friends and classmates involved in this opportunity, especially when we're all stressed with our classes," Co-President Hua Chen said. "Even though this is only a local cleanup, just being there and picking up litter after litter of trash makes an impact to our environment."
For some SEAL members, such as junior Henry Sanders, this was the first time participating in an event like this.
"[I went] 'cause I love the environment," he said. "It should be everyone's responsibility to put in a little effort to save the environment. If we all do it together, we'll get it done."
Others have not only cleaned up with SEAL but also with other organizations back home. Senior student Steil was involved with Girl Scouts.
"With the Girl Scouts, I would do coastal cleanups and cleanups at local parks," they said. "I think it's really fun to get out and give back, and trash is yucky, so it's good to not have that."
In the future, SEAL plans to expanding the recycling within the school and expanding projects out into the community. By getting involved with organizations like the Lowndes County Boys and Girls Club, they hope to help educate the next generation on the importance of preserving the planet. The officers are also in the process of planning more local cleanups to build on their efforts Saturday.