Blue Waves sprint into another win at Eagle Claw
The MSMS Cross Country teams once again exceeded expectations at the Eagle Claw Invitational last Saturday, with more than half of their runners setting personal records (PR). Even though they were up against schools from the 3A and 4A divisions, the boys team was able to run out with a first-place finish.
Upon arrival, the team set out to walk the course and get psyched up for the big race. While there were six other teams at the meet, only one other team was competing in the same division.
Coming off a successful meet a week prior, the team was excited about their chances.
"The atmosphere was full of excitement and energy because we were all very eager to get another win," junior Luke Bowles said.
Junior Bryce Harrison led the pack, finishing first place overall and setting a PR of 18 minutes, and juniors Luke Bowles and Cameron Wright finished close behind him. Bowles finished second with a time of 18:48, and Wright finished fourth, also setting a PR of 19:54. The team was rounded out with junior Matthew Dunn placing 13th, senior Elijah Dosda placing 18th and junior Max Grossman placing 40th.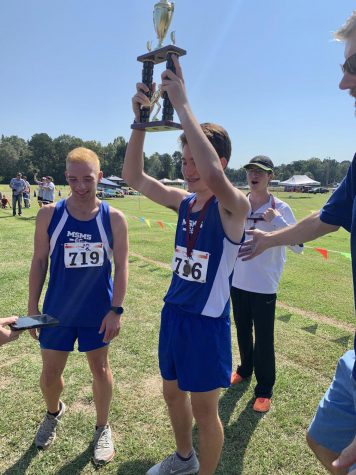 Although the Lady Waves did not have enough runners competing to be scored as a team, they still made efforts to meet personal bests. Senior Linda Arnoldus placed fourth place overall with a time of 27:29, and juniors Skylar Nichols and Fiona Dawe placed 15th and 16th, respectively. Both Arnoldus and Dawe set new PR's.
The Blue Waves came out victorious with a first-place finish, collecting 38 points and an average time of 20:38, which was 26 points less and nearly two minutes faster than the next team. The Blue Waves are currently ranked third in the 2A district, right behind Walnut High School and St. Patrick High School.
The team is optimistic about the future as they approach the end of the season.
"I'm excited for the next meet because we have two weeks to prepare," Nichols said. "I'm hoping the girls will have a full team so that we can place."
"I'm very, very excited for the next meet because I only see us getting better," Bowles added. "As a whole, I think we did a great job, and I'm really proud of everyone."
The Blue Waves' next meet is the Itawamba Invitational in Manatachie, Miss. on Oct. 19.