'Joker' isn't clowning around
Thanks to Jared Leto and his not-so-stunning performance in "Suicide Squad," the reputation of Batman's iconic arch-nemesis has been dragged through the mud. His rendition of the Joker was astoundingly underwhelming, yet it somehow seemed as if he were trying too hard. Fortunately, Joaquin Phoenix is here to pick up the slack and restore the tainted name of the Joker.
Acting as a standalone film among the chaos of the DC Universe, "Joker" is a thriller guaranteed to send chills down your spine. I was glued to my seat and reluctant to leave. Phoenix's performance is comparable to even the infamous Heath Ledger, whose disturbing and electric persona could frighten even the bravest souls.
"Joker" is the first DC movie to be rated R, and it is likely to be the last. This is because most children aren't allowed to see movies of this type, and the vast majority of DC movies' target audience is children. Despite not being connected to other Batman films, this movie makes several references to Gotham City, Arkham Asylum and Bruce Wayne.
Phoenix plays the role of Arthur Fleck, a maniacal psychopath with a mental condition that causes fits of uncontrollable laughter. The movie follows Fleck on a journey of self-discovery, a journey to madness. Working as a clown in Gotham City, Fleck is beaten, battered, and bruised as he tries to adapt to the harsh world around him. Fleck's bone-chilling laugh coupled with his ungraceful and rather manic movements add to the dread and constant unrest that come as a side effect of watching this film.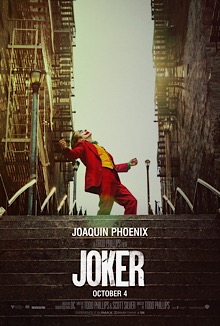 Phoenix's ability to transform himself into such a psychotic character showcases his talent and puts a spotlight on his incredible acting. Without Phoenix, "Joker" would have lost the edginess that set it apart from other Batman and Joker movies. His laugh alone scared me out of my wits, not to mention his cold-blooded stare and ominous grin. Phoenix was able to show the audience a new side of the Joker, and he somehow managed to make me sympathize with Fleck at times.
As a perfect complement to the acting, the soundtrack featured in "Joker" further boosts the film to a new level of foreboding. From Jimmy Durante's "Smile" to instrumental tunes created solely for the movie, the soundtrack is successful in raising goosebumps on the arms of everyone in the theater.
Similarly, the cinematography highlights the insanity shown throughout the film. The close-ups and camera pans show the good, the bad and the ugly of Phoenix's portrayal of the Joker. The dark tones and bright costumes emphasize the inner madness that Fleck is fighting, and the camera angles strongly display Fleck's ragged appearance and darkened soul.
However, don't be fooled; this movie is not for the faint-hearted. Through a few well-timed jump scares and just the right amount of gore, 'Joker' will, without a doubt, keep you on the edge of your seat. Only two minutes of the entire film was peaceful and laid-back, and those were the two minutes I was in the bathroom. Regardless of whether you are a scary movie veteran or a first-timer, you will be captivated, anxious, and shocked until the very end.
While "Joker" is unsettling and extremely anxiety-inducing, it will leave you pleasantly surprised and wanting more. I predict many Oscar nominations coming its way, especially for Joaquin Phoenix and his jaw-dropping performance. Earning $39.9 million on opening day in domestic ticket sales, it is safe to say that "Joker" is a must-see for spooky season and a film that will forever change the DC Universe.